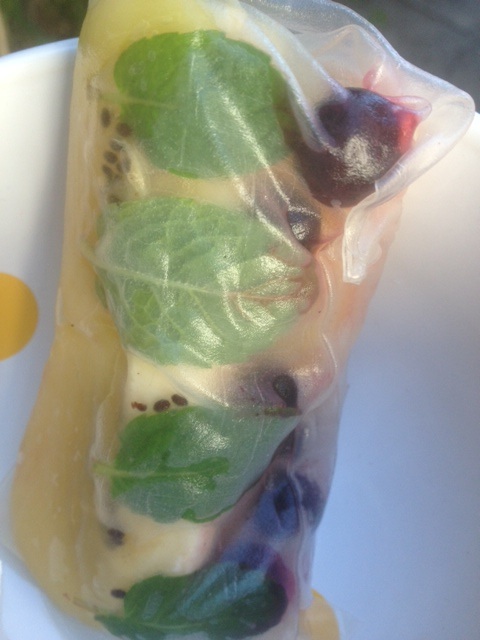 'They're so cute!'
'Wow, what a fun little snack!'
'What a cool idea!'
These are the comments I received when these fruity spring rolls were served to some friends recently.
And although the children present were too young for a quote, the smiles, messy faces, and empty plates were enough of a thumbs up in my book.
This is a new take on the traditional rice paper roll (which we also love!), which tends to be made with a savoury filling (like this).
By using whatever fresh fruits you have on hand, plus some fresh mint, you can create your own taste sensation that is super healthy and a little bit of fun.
For the dipping sauce we just used the berry juice leftover from defrosting the berries and mixed it with some Greek yoghurt. Too easy!
Why not try some other combinations such as:
pineapple, mint and rockmelon
watermelon, banana and thin slices of apple
honey dew melon, blueberries and strawberries

Ingredients:
4 rice paper rolls
1 large banana
2 kiwi fruits
16 mint leaves
½ cup of mixed berries, defrosted
½ cup Greek yoghurt
Juice from defrosting your berries (or mash up 8 fresh ones)
Method:
Follow the packet directions for your rice paper rolls.
Generally you just need to dunk them into a bowl of warm water and then lay out on a moistened tea towel.
Place your mint leaves down first, then layer on the fruit.
Fold the top down, and then the left and right sides need to come in.
Enclose the bottom to finish.
To make the dipping sauce, mix together the juice from the berries and the yoghurt.
Makes: 4 rolls. Calories per serve including sauce: 115.

Need to stock up on Healthy Mummy Smoothies? Then see our shop here
And join our 28 Day Weight Loss Challenges here