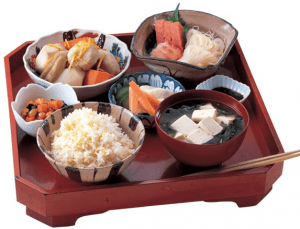 On the Lose Baby Weight plan we often get asked what the best foods are to eat when you are eating out and following a weight loss plan. So firstly we are going to look at Japenese food.
Japanese food is generally quite healthy so a good option when you are trying to lose weight or want to lose stomach fat. Japenese foods usually contain lots of vegetables, lean protein such as fish, chicken and tofu and lots of low-fat flavour enhancers such as mirin, soy sauce and rice wine vinegar.
But if you're not careful, you can take in lots of hidden fat and calories especially if the Japanese restaurant you're in isn't that authentic. Luckily though, there are plenty of healthy food options to help you lose stomach fat for you to choose from, meaning you can enjoy a fun evening out without having to worry about weight gain.
Here's our list of what weight loss food to eat and what to avoid at a Japanese restaurant.
Miso soup is an excellent choice for a starter – it has very little calories and fat and because it is made from soy beans, it is an excellent source of protein, making it filling too. If miso isn't for you, su-udon, a type of noodle soup is also a good choice. There is usually plenty of salad and vegetable starters to choose from in a Japanese restaurant, such as cucumber salad or miso tossed salad. If in doubt, look for food that is steamed, grilled or roasted rather than fried.
Most vegetable dishes on the menu will be absolutely excellent choices – just beware that if the veggies are served in a thickened sauce, the sauce may well have been thickened with corn-flour which can add extra fat and calories that you may not have been aware of. Vegetable dumplings, however, are probably not your best choice as they will be thickened with flour and eggs and will most likely be fried, making them full of hidden fat.
As for your main course, mizutaki (chicken) and seafood sunomono are great choices, as they are both full of lean protein and loads of vegetables, still with bags of flavour. If you're a fan of sushi, you can still eat it – tuna sashimi, salmon rolls and maki sushi are all low-fat choices. Watch out for sushi that contains lots of rice, however, as the rice is naturally full of calories.
A fantastic choice for your main course, especially if you're at the restaurant with lots of people is shabu-shabu, a sharing dish that involves lots of protein, fish and vegetables all lowered into simmering stock. Think of it as like a fondue but without all the fat! The bonus of eating this dish is also that you can cook your meat and vegetables to your own liking, and the sharing element is especially enjoyable.
Tempura is something to steer clear of if you're watching your weight – although the batter itself is quite low in fat as it is light and tends to be made with corn-flour, the deep-frying process means that it absorbs a lot of oil and you'll be taking in lots of fat from that oil. Try roasted fish or chicken instead and you'll be saving on a lot of fat.
Other dishes to steer clear from include fried bean curd and yo kan, as well as fried rice and fried noodles. Luckily, most Japanese restaurants will serve noodles and rice steamed or boiled if you ask, and brown rice is also usually available on request. Brown rice will also keep you fuller for longer as it's a slow-release carbohydrate, so you'll be less likely to pig out after your meal.
For dessert, stick to the fresh fruit option and keep away from the fruit fritters and fruit tempura! Most Japanese restaurants serve fruit tempura of some description and although the tempura is super tasty, the flour in the dough and the fact that the tempura are deep-fried means that they are probably best kept for a treat.
To see more ideas on what healthy takeaway food options to have click here