Every month, a mum who is on the Lose Baby Weight plans will be writing about their journey, exercise, ups and downs and will be here to help motivate YOU and THEMSELVES along the way – and if you want to become our Motivating Mum for one month see here on how you can enter (we pay you for it too!).
And in April our Motivating Mum of the Month and taking up the challenge to motivate you is Janet Cook – see Janet's first week and first MOTIVATING post below. Our Motivating Mum in March was Linda Hallas and you can see her 7.8kg loss and 32kg overall loss here
Janet's First Week Diary Post
Hi mums, this is my first official blog as April Motivating Mum of the Month!!
I hope you all had a great long-weekend! I am very happy to have avoided chocolate all weekend (although there were a couple of small pieces of cake involved!) I found planning so important – I knew there would be treats so I decided in advance how much I would eat and modified what I ate during the rest of the day.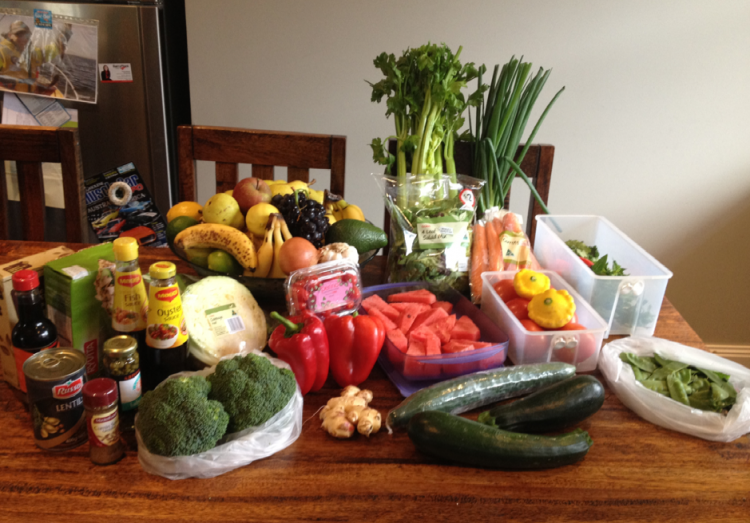 I have had a great time catching up with friends and family over the past few days – and telling them all about my April Challenge!
Everyone has been so supportive and encouraging and the best part of sharing your goals is the extra support you get. If you have already told everyone that you are concentrating on being healthy and looking after yourself, it is much easier to say 'no thank- you' when offered second servings or dessert. I would encourage all of you to spread the word about your goals with health and/or weight loss- it really keeps you accountable!
We had fun on the weekend looking through the Lose Baby Weight 28 day Plan and planning our dinners for the week. When I look at all the beautiful, healthy ingredients we purchased I am SO excited to try all the delicious recipes in the plan!
As per the Little Pink Weightloss Bible I have also started having a tablespoon of cider vinegar diluted in carbonated water before each meal to help control appetite and boost metabolism. I am quite enjoying the taste and I have even got my parents onto it!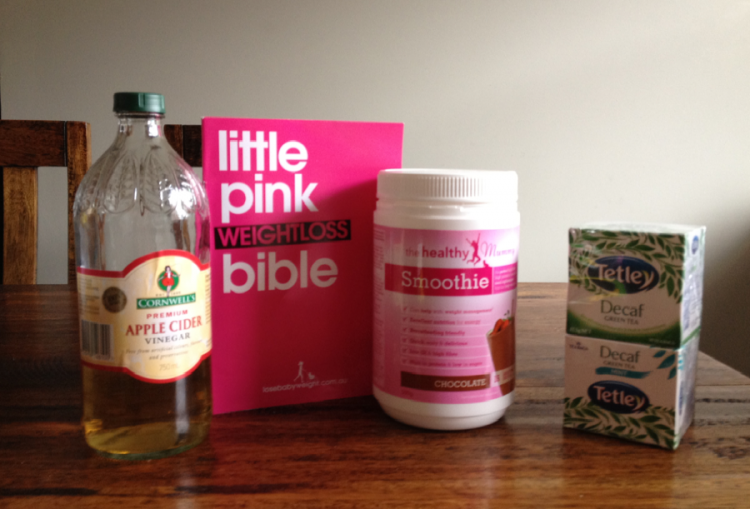 Despite the temptation of this time of year, I managed to lose another kilo since my introduction blog last week and now weigh in at 75.5kgs. My April goal of 70kgs is getting closer….
I'd better get going- I have some Step-ups and Cat/Cows to do J (see LBW 28 day diet and exercise plan). This week is about being active and building some muscle to increase my metabolism!
Please join me in this April Challenge I would love to hear about your progress throughout the month!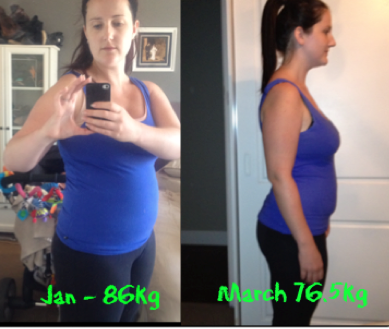 My favorite quote for the week:
"When you are on the sofa do butt crunches- easy to do and will burn calories and tone your bum" – Lose Baby Weight, little pink WEIGHTLOSS bible
If you want to become our Motivating Mum next month see here on how you can enter (we pay you for it too!).
GET YOUR 10% DISCOUNT
If you are ready to lose weight then the Lose Baby Weight plans offer a healthy and safe exercise and diet routine and you can get a 10% discount by using code LOYALTY at the checkout
Click HERE to see our shop