Every month, a mum who is on the Lose Baby Weight plans will be writing about their journey, exercise, ups and downs and will be here to help motivate YOU and THEMSELVES along the way.
If you'd like to become our Motivating Mum for the month click here to find out more (we pay you for it too!).
Today we are pleased to introduce Chloe, a mum who has already more than 18kg with the Lose Baby Weight plans. But she's not done yet! Follow Chloe as she aims to kick even more goals during her month as Motivating Mum.
Over to you Chloe!
'Hi everyone!
My name is Chloe. I'm 26 yrs old and a mother to three gorgeous boys: Owen – 7yrs, Corey – just shy of 4yrs and Beau – just turned 1.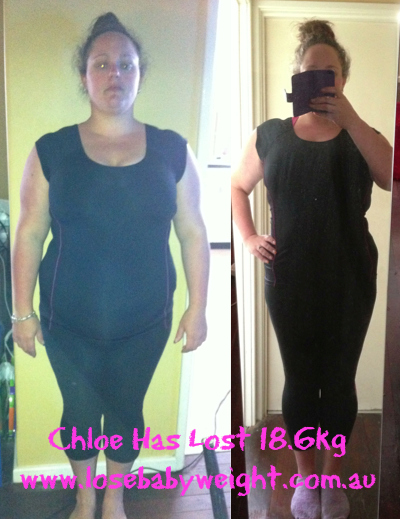 Since I was 8yrs old I struggled with my weight. I was always on the 'chubbier' side.
Once I moved out of home and mum's home cooked healthy meals weren't there anymore, I put on approximately 10kg.
I remember going to try on a bikini ready for summer a year and a bit later and had no idea how I got to where I was.
Then after that baby number 1 came, followed by 2 & 3 and of course more and more weight with each one.
When my partner and I first met in 2003 I weighed 84kg….by baby number three in 2012 I weighed in at my 1 week postnatal check-up at 116kg. Wow….was that a defining moment.
I think I always blocked it out as my partner had NEVER made me feel self conscious about my body. He loved me unconditionally. My boys loved me. Why would I think there was anything to change?
But once my eldest son just shy of 6yrs old at the time said to me – very innocently – "Mummy, you're fat" it hit me.
I had never felt as hurt by anyone else who had called me fat (including some family members) over the years like I did in that moment.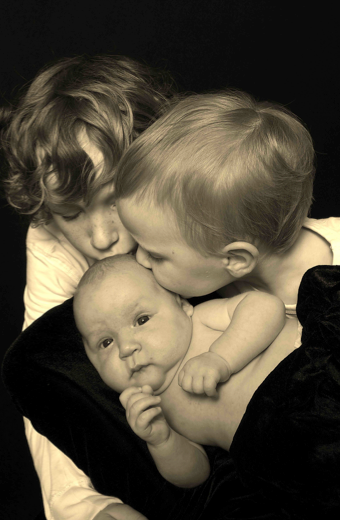 It made me really look back to all the times other people had said nasty things to me about my weight (because obviously it's an easy stab to take in a elevated situation) and to how many times I had tried to attempt weight loss but 'something' would always come up and stray me from my goals.
In that moment I realised I was a role model to my boys and I needed to be healthy to avoid any serious medical conditions later on in life.
I started talking to a friend who was going through a similar mindset as me about how I was ready to start making a healthy change, to focus on something that was really important to me.
At first it was eating breakfast which I never did before, steering away from all the carbs – which wasn't easy with my Italian background – not picking too much, along with portion control.
I joined a gym as soon as Beau was 8 weeks old and my weight loss journey began.
I loved the gym and couldn't get enough…I was addicted.
But food still was a hard change. From 1 Sep 2012 – 28 Dec 2012 I lost 4kg and approx. 26cm.
I wasn't as happy with my progress and still felt like I could do more. Through talking to my friend about my frustrations she told me about Lose Baby Weight – which has been the most amazing thing that has happened to me part of my weight loss journey.
I placed my first order on 28 Dec 2012 and wow…what a godsend.
First I started with a healthy mummy moothie once a day and some of the snack ideas like carrot sticks with hommus, raw almonds, the amazingly yummy 'Dark Chocolate Treats', crackers with avocado and tomato etc.
Straight away I noticed the difference.
The smoothies filled me up so I didn't feel hungry. It was true what I read on the website that my milk could increase due to the benefits contained in the smoothies – it did and I was so happy
I felt more energetic and overall just better about how easy it was to eat right if you just have a little guidance.
The thing I liked most was that I didn't feel like I was on a 'diet' AT ALL.
In the first month I lost 10cm and 5kg!! Boy was I happy.
The motivation kicked in twice as much and ever since I haven't looked back.
The meals I have cooked from the 28 Day Plan have been so yummy!
Even my partner enjoys them and the kids love some of them too. I have started having two smoothies a day and I just can't get enough of them.
Over my weight loss journey I have had MANY interruptions to my exercise…between the family getting gastro, colds and flues, my reoccurring back injury that has flared up twice, my youngest ending up in hospital with viral meningitis and now recently being in a car accident.
I am soooooooo THANKFUL to have had the support of the Lose Baby Weight team.
Between the constant motivational stories from other mums, the motivational advice and the amazing food plans and smoothies it is so easy to stay motivated when it is such a simple system.
It really is perfectly designed for all of us mums who all have our own individual struggles while still trying to take care of ourselves and work towards our goals.
For the month of July my goals are to:
get below 90kg
drink more water
go back to my pre June eating habits (too many celebrations/started working nights in June so don't always eat dinner before I leave).
My stats:
Before: 01 Jan 2013
Weight: 111.8kg
Hips: 125 cm
Waist: 117 cm
Bust: 133cm
Thigh: 69cm
Now: 27 June 2013
Weight: 93.2kg

Hips: 115cm
Waist: 105.5cm
Bust: 119 cm
Thigh: 66cm
Total weight lost on Lose Baby Weight Plans: 18.6kg
Total centimetres lost on Lose Baby Weight Plans: 38.5cm
Bring on July!!!!! Here we go ladies.'
– Chloe Rizzi
GET YOUR 10% DISCOUNT
If you are ready to lose weight then the Lose Baby Weight plans offer a healthy and safe exercise and diet routine and you can get a 10% discount by using code LOYALTY at the checkout
PLUS our BEST SELLING 28 Day Diet & Exercise Plan has now launched as an 84pg Printed Book and you can get your copy here 
Click HERE to see our shop