One of the main motivators for someone to lose pregnancy weight is often to lose weight in a specific "problem" area and on the Lose Baby Weight plans we get lots of questions about how to lose weight from bums, hips and thighs which we are going to cover here.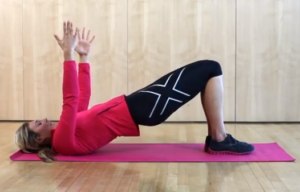 We cover the problem area of stomach fat in a separate section here.
Firstly, it's often the thinking, the approach that's a problem. There are no super fast fixes that achieve long term results.
You'll be much more successful in sticking with an exercise regime and achieving your goals and a sense of satisfaction if you view your body as something beautiful to embrace and work with rather than battling bulges. Slow and steady does it. Especially if you've just given birth!
If you're blessed with a beautiful Beyonce behind, you can certainly give it a more toned look and also improve the skin tone. What you cannot do is totally change your body shape entirely.
Your plan for improving your delicious behind and legs will be to make sure you have a healthy diet and avoid all the usual suspects to start with – The Lose Baby Weight plans really come into their own here as they are the perfect way to ensure you have a healthy diet which helps you lose that pregnancy weight and when you combine this with sensible exercise then you have a recipe for success.
Also, a point to note is that if you are a caffeine lover and drink a fair few cups a day plus throw in other things like saturated fats, sugar and toxins to take your body on a joyride,  you'll make fat cells in those "problem" areas bloat and hang out together. Party time.. So best to steer clear of these toxins and instead eat healthy foods that will help your cells detox.
What exercise can help these areas?
Healthy diet – check. Now, add in regular cardiovascular exercise. It helps burn fat and without it, you can tone up all you want, you're efforts will be well hidden.
After giving birth, stick to walking to start with and once you are regularly walking you can then start to increase the intensity of your walks – and you can get some tips on how to do this here. You can add in swimming once you've been cleared by your doctor. Cycling and running are okay once your abs have healed.
A great, safe and more fun way to get some cardio into the mix when you haven't been doing any running, is a mini trampoline. It's not just a whole lot of fun to bounce but it also triggers your lymphatic system – draining excess fluids and toxins -, activates your core without you having to think about it and will improve your fitness level, skin tone and legs at the same time. Almost too good to be true!
If you don't have a trampoline, skipping is a great alternative but be careful as your joints will have to absorb much more impact! The first months after pregnancy, you could try our pilates mat exercises ON the trampoline – it'll add an additional challenge, triggering your stabilising muscles.
Healthy diet, cardio workout – check! Now onto those delicious thighs, hips, butts. Check out the pilates side lying series video below. It's super effective and very safe even if you have not fully healed your abs yet. (just be careful getting in and out of position!) once you are more advanced, progress to kneeling instead.
Enjoy your workout and remember: positive attitude! Embrace your body and listen to it at all times. Less is so often more.
[pb_vidembed title="Leg and Thigh Exercises" caption="" url="http://www.youtube.com/watch?v=VU6gLzqhUB0″ type="yt" w="580″ h="435″]
This article was written by Sol Walkling, one of the Lose Baby Weight Pilates Expert and Trainers – to see more of our exercise videos click here
Get Our Exercise DVD
And for the ULTIMATE SAFE, EFFECTIVE & TRUSTED Post Pregnancy Workout – see our EXPERT Post Pregnancy Exercise DVD below – you can purchase and see more information on it here
The DVD can be followed by all mums (for example new mums or mums with older children) and can be followed by someone with a basic or a more advanced level of fitness.
Lisa Westlake is our incredible fitness instructor and postnatal exercise specialist throughout the DVD. With her extensive physiotherapy experience and qualifications (Lisa is one of the most awarded fitness professionals in Australia), Lisa is the perfect fitness instructor to bring The Healthy Mummy Post Pregnancy Exercise DVD to life – you will love working out with her. (You can see our Q&A with Lisa with commonly asked questions on the DVD here)
The exercises in The Healthy Mummy Post Pregnancy Exercise DVD are effective and safe and Lisa will guide you through each of the workouts. As well as assisting in the improvement of your overall fitness levels, the workouts in the DVD will also help in the burning of calories, the improvement of your core strength and the strengthening of your pelvic floor.
The six workouts are broken down into 10 and 15 minute sections that you can do when it suits you – or if you have the time and energy you can do the DVD as one 70 minute continuous workout. The Healthy Mummy Post Pregnancy Exercise DVD also covers special considerations post-birth, such as caesarean sections, back strains, muscle separation, incontinence and pelvic floor issues.
[pb_vidembed title="The Post Pregnancy Exercise DVD" caption="" url="http://vimeo.com/73423922″ type="vem" w="600″ h="450″]
GET YOUR 10% DISCOUNT
If you are ready to lose weight then the Lose Baby Weight plans offer a healthy and safe exercise and diet routine and you can get a 10% discount by using code LOYALTY at the checkout.

Click HERE to see our shop