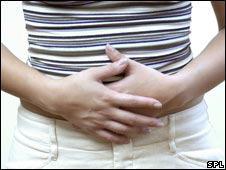 Hunger pangs are the dull pains you feel in your tummy and chest when you are particularly hungry.
They could occur when you haven't eaten for a while, when you switch from eating a high calorie diet to eating a low calorie diet, or even when you are feeling thirsty. The best way to beat hunger pangs – and to still lose weight – is actually to eat more.
Plus if you are eating more often the 'false hunger pangs' where we think we are hungry but are often bored will go away as our body stays satisfied.
Here's how to control hunger pangs.
Firstly you need to work out whether you're feeling hungry or thirsty – sometimes you can confuse thirst for hunger as the feelings of thirst and hunger are generally in the same place, and so you may find yourself eating to solve thirst rather than drinking to solve thirst. To work out whether you are thirsty or hungry, have a glass of water. If you feel satiated after your drink, you weren't experiencing hunger pangs and were just a little thirsty.
You should also be looking to eat foods that are higher in fibre and protein. Foods that are high in fibre will help to keep you full because fibre takes longer to be digested by the body, and foods that are high in protein are naturally filling – plus if you choose high fibre or high protein foods that are low in fat and carbohydrates, chances are they are fairly low in calories, which means you can eat more of that food without veering off your diet. The Healthy Mummy Smoothie is both high in fibre and protein so a great way to start your day
Eating more often will also help to keep hunger pangs at bay. Often, we get stuck in a pattern of eating 3 hearty meals a day – but this can leave you feeling very hungry between meals. Instead, eat 5-6 smaller meals per day, or 3 slightly smaller meals and 2-3 hearty snacks per day. This will not only boost your metabolism, which will help you to lose more weight, but it will also keep your blood sugar levels steady and even, meaning that your energy levels stay steady and even.
Eating more often also means that you know your next meal is coming up soon and you don't really get chance to get hungry – so try filling up on snacks such as fruit, veggie sticks, hummus, nuts, ham or turkey slices, low fat cheese, yoghurt pots etc. You can see lots of healthy snack ideas here too
If you are eating a very low calorie diet (less than 800 calories per day) you WILL feel hungry all the time. No matter what you do. Very low calorie diets are no good for your health and will not provide you with the protein, carbohydrates, fat, vitamins and minerals that you need to survive – which is why we 100% DO NOT recommend them.
Having between 1400 – 1700 calories per day is a safe amount of calories to eat for both health and weight loss (but remember it all depends on your individual BMR and if you are breastfeeding – you can work yours out here) – and if you are eating the right amount of calories, you should find that you don't get hungry.
You should also make sure that you stay hydrated and that you eat breakfast. Eating breakfast will ensure that you stay full until lunch and in terms of weight loss, it's the most important meal of the day. Skip breakfast and you'll be starving come lunchtime and more likely to pig out and overeat. Eat a balanced breakfast packed with protein, calcium and some fruit if you can and you should find that you beat morning hunger pangs. Staying hydrated also ensures that you don't feel dizzy and dehydrated, which are feelings that you could confuse for hunger pangs.
Finally, try snacking on negative calorie foods if you're experiencing hunger pangs that you just can't get rid of. Celery, for example, takes more calories to digest than it contains, so eating celery will not negatively impact on your diet in any way but it will help to curb hunger pangs.
And don't forget to check out our current promotions and discounts page to see what specials we have on this week on our Healthy Mummy product range