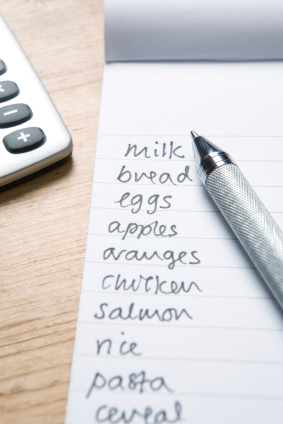 Whether you are just starting out on your weight loss journey, or whether you've been on the road for a while – one thing is for certain.
Eating fresh, nutritious, healthy food needs to be the top priority.
But where do you start when it comes to a healthy audit of your kitchen? Today we have put together the basics for what a healthy fridge and pantry could look like.
You might notice that there aren't a lot of commercial products in there – that's because the closer to nature an item is the less likely it is to have been tampered with.
That means it is less likely to contain fats, salts, sugars and additives that could all add up to a less than healthy meal – this is so important when you are trying to lose weight.
Take a look in your kitchen and see if you stock some of these healthy staples.
Fresh vegetables
Use these regularly as a side dish and to bulk out your meals.
Go for a variety of colours and flavours so as to maximise the nutrition.
We love baby spinach, fresh corn, sweet potato, onions, carrots and zucchinis. Also plant your own fresh herbs – they pack in loads of flavour for very little effort.
Fruit
Always keep a plentiful fruit bowl so that you have snacks at the ready.
Portable fruit (think bananas, mandarins, apples, grapes) is always nice and handy as well as some special fruits for desserts (like mango, pineapple, rockmelon).
Keep lemons and limes on hand for sauces and dressings, as well as to squeeze into sparkling water.
Meat, Fish, Poultry
Be sure to go for lean, trimmed cuts of meat such as chicken breast, diced lamb or lean fillets of beef.
Go for skinless salmon fillets and try to choose free range eggs where possible.
It's perfectly fine to enjoy vegetarian meals several times per week – just be sure to include protein from other sources (legumes, nuts, eggs, tofu) when you do.
Canned and Packaged Food
Tinned goods should be limited to staples like legumes (kidney beans, chickpeas, cannellini beans), tinned tomatoes to flavour Bolognese or soup, veggies like corn or beetroot.
Ensure you have some good quality olive oil (and olive oil spray), and you might also find coconut oil works well in cooking and baking as it is sweeter than olive oil.
If you don't have time to make your own stock, always choose salt reduced options where possible.
High quality dark chocolate is a must for healthy baking and after dinner portion controlled treats.
Keep frozen peas and berries in your freezer; and LSA, oats and chia seeds in your pantry.
Herbal tea should be in your cupboard – try to have one each day (especially if that means one less coffee).
Spices should be topped up where necessary – they add tremendous flavour with very few calories.
Dairy
It's so important to include dairy in your diet and we would never recommend cutting out this food group unless you have allergies to it. Dairy adds a richness and creaminess to your cooking which reduces your need to add butter or sugar to your cooking.
Choose good quality, and reduced fat where possible. We always keep cottage cheese, ricotta and feta on hand.
It's also worthwhile having Greek or natural yoghurt to use as a snack or to add to your smoothies.
Keep your milk of choice on hand for smoothies, and some tofu in the fridge for a vegetarian option for meals (it keeps well).
Breads, Grains, and Nuts
Noodles are great to add to a soup or stirfry. We love the clear rice noodles or you can also buy nice soba or buckwheat noodles.
Brown rice should be a staple over white rice, and you can even find brown rice cakes these days. You can also use quinoa instead of rice for a change, and it's much higher in protein.
Track down some wholegrain pasta – again it's much better than white pasta.
Choose a quality loaf of bread such as a soy and linseed or wholegrain loaf. Also grab some Mountain Bread wraps which are great for lunch.
Nuts are great for snacks and cooking with – we love almonds, walnuts, hazelnuts and cashews.

GET YOUR 10% DISCOUNT
If you are ready to lose weight then the Lose Baby Weight plans offer a healthy and safe exercise and diet routine and you can get a 10% discount by using code LOYALTY at the checkout
PLUS our BEST SELLING 28 Day Diet & Exercise Plan is available as a 200pg Printed Book and you can get your copy here 
Plus our NEW CALORIE BIBLE is now available – get your copy today! Only $19.95 and a must have in your handbag!
Click HERE to see our shop