Ah the humble Shepard's pie. Never has there been a better way to dress up leftover mince and whatever veggies are left in the bottom of the crisper.
Though the word 'pie' brings to mind layers of flaky pastry, thick gravy and a serious lack of anything green (never great options for those trying to lose baby weight), this particular recipe is different.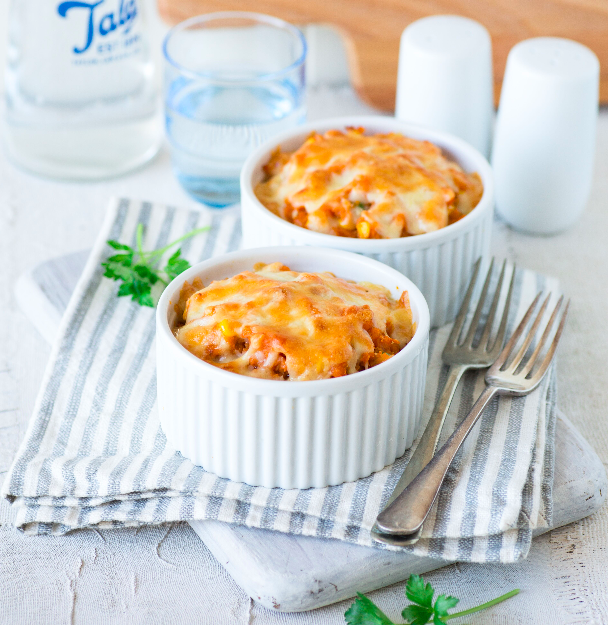 Free from butter, pastry and gravy and chock full of lean mince and veggies.  This improved version of an old favourite makes a weight loss friendly, delicious meal option.
When most people picture a shepard's pie, they see the golden mashed potato that makes up the top of the dish. While there are worse things you could indulge in, mashed potato isn't a great option for those following a low fat diet or weight loss plan.
High GI and (usually) containing a generous amount of butter, mashed potato doesn't add any real nutritional value to the dish. Swapping it for low GI, beta-carotene rich sweet potato is a healthier but still yummy alternative. Roasting the sweet potato brings out its natural sweetness which tastes delicious when combined with the mince and veggies. More about why sweet potatoes are healthier than white potatoes.
While the traditional shepard's pie is light on the veggies, this one features a whole rainbow of different colours and flavours. This is especially good for upping your vegetable intake if you struggle with getting enough in.
Mum's may also find that this makes a great meal option for picky eaters, as the sweet potato and mince help disguise less popular inclusions.
Ingredients
500g extra trim beef mince
1 small onion, finely diced
1 carrot, peeled and finely diced
1 stick of celery, finely diced
2 cups salt reduced beef stock
3/4 cup mushrooms, diced
1 clove of garlic, crushed
2 tbsp salt reduced tomato paste
2 tbsp olive oil
1 tbsp worcestershire sauce
2 medium sized sweet potatoes, cut in half longways
1 tsp cinnamon
Method
Preheat oven to 170C
Line a baking tray with baking paper and place sweet potato halves on tray.
Drizzle with 1 tbsp olive oil, sprinkle with cinnamon and place in the oven for 50 min.
When there's about 20 minutes to go on the oven timer, heat remaining olive oil in a large saucepan over a medium/high heat.
Add garlic and onion to the pan and fry, stirring constantly, until the onion is transparent.
Add carrot, celery and mushrooms to the pan and continue to stir mixture until vegetables have softened.
Add mince to the pan and break up with a wooden spoon to remove any lumps. Cook, stirring regularly, until mince has changed colour and is cooked through.
Pour beef stock, worcestershire sauce and tomato paste into the pan and bring the mixture to the boil. Reduce to medium/low heat and allow to simmer and thicken for 10-15 minutes.
While beef mixture is simmering, remove sweet potato from the oven (when cooked through and soft) and allow to cool slightly.
Being careful not to burn yourself, scoop sweet potato flesh out of each half using a large spoon and place in a mixing bowl. Discard the skin.
Using a fork (or potato masher) mash the sweet potato flesh until smooth.
Pour beef mixture into a large baking dish and top with mashed sweet potato.
Place in still hot oven for 15min to turn sweet potato golden and thicken the meat mixture further, then serve.
Serves 4 – Calories – 365 per serve
Tips
Perfect for sunday supper or an easy weeknight dinner. There will even be leftovers for the next day's lunch.
To make preparation even easier, buy a packet of pre-diced casserole veggies. These usually contains a mixture of carrot, celery and other seasonal vegetables and can be used instead of the individual vegetables listed above.