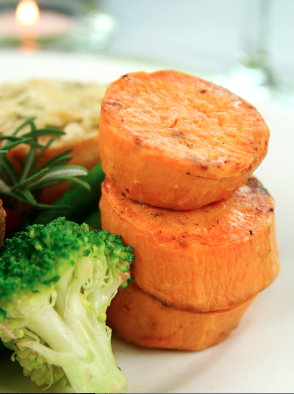 The sweet-tasting spud is surprisingly nutritional – and surprisingly versatile.
Sweet potatoes are much better for you than you'd expect, containing lots of fibre and plenty of vitamins and nutrients and are perfect to include on your Lose Baby Weight healthy eating plan. But what can this sweet yet savoury spud do for our health?
Low on the GI
Sweet potatoes are much better for your blood sugar than their white counterparts. Sweet potatoes rank much lower on the glycaemic index than white potatoes, and this means that their glycaemic load is lower than a white potato. In simple terms, sweet potatoes are processed more slowly, meaning that your blood sugar levels don't spike – instead, the sugar from sweet potatoes is processed slowly, keeping your blood sugar levels stable. This helps to prevent cravings for fatty, sugary foods.
High in Fibre
Sweet potatoes contain both soluble and insoluble fibre – both of which are very, very good for your health. A diet rich in fibre will improve your digestive health and your bowel health and will help to protect you against disease. Both of these types of fibre could also boost your weight loss. Soluble fibre forms a gel in the tummy when it mixes with water, which fills you up, while insoluble fibre doesn't actually get absorbed – helping to keep your bowel movements regular.
Rich in Vitamins
Sweet potatoes are bright yellow/orange in colour – and this bright hue actually means that they are packed with vitamins and nutrients. As with other fruits and veggies, bright colour tends to mean that a certain vitamin is present. Sweet potatoes are packed with beta-carotene, giving them their bright orange colour, and this could actually help regulate insulin – reducing your risk of diabetes and weight gain.
A recent study has also shown that women and men who ate a diet rich in beta-carotene were less likely to develop some cancers and more likely to survive others. Sweet potatoes are also packed with vitamin A, vitamin E and anthocyanins – some powerful antioxidants that are known to protect against damaging free radicals, reducing the risk of certain types of cancers. They also contain vitamin C, which could fight against heart disease and reduce the symptoms of diabetes, such as damage to the eyes and nerves.
High in Potassium
Sweet potatoes are also rich in potassium – a mineral that is known to reduce high blood pressure. Eating a wide, varied diet that includes plenty of fruits and veggies – and plenty of sweet potatoes – could actually help to reduce your blood pressure.
Calories and Fat
Sweet potatoes are also slightly lower in calories than regular potatoes – 100g sweet potato contains 90 calories, compared to the 94 calories in 100g of white potato. The fat content is exactly the same, with both types of potato containing 0.15g fat per 100g.
Cooking Sweet Potato
To cook sweet potato, in most cases, you should treat it exactly the same way as a white potato. You can prick them all over with a fork and bake them dry in the oven, spritz with cooking spray, or you can steam them or boil them.
You can cook them as fries or wedges with a tiny bit of olive oil, or you can bake them into a sweet side dish by drizzling with a little bit of runny honey.
You don't need to use lots of butter, oil, or fatty flavourings with sweet potatoes as they are naturally very flavourful – a pinch of seasoning or your favourite herbs and spices will be plenty enough to jazz them up.
Sweet Potato Fries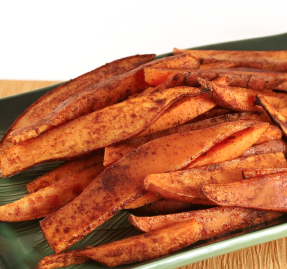 This is an excellent low-calorie, low-fat version of regular white potato fries. Serve them in exactly the same way as you'd serve regular fries.
Ingredients
4 x medium sweet potatoes
1 tsp. extra-virgin olive oil
Pinch each salt, pepper and paprika
½ tsp. dried thyme
Directions
Scrub the potatoes well and slice into thin fries. Wash well and place into a bowl of water. Cover with cling wrap and put into a microwave (or you can pop them into a pan of water and bring to the boil). Cook for about three minutes, uncover and drain. Pat dry with kitchen towel.
Toss potatoes with oil, salt, pepper, paprika and thyme and bake in a 200C oven for 20-30 minutes, turning halfway through cooking, until browned, crisp and tender on the inside.
Recipe serves 4, calories per serving: 113, fat per serving: 1.3g.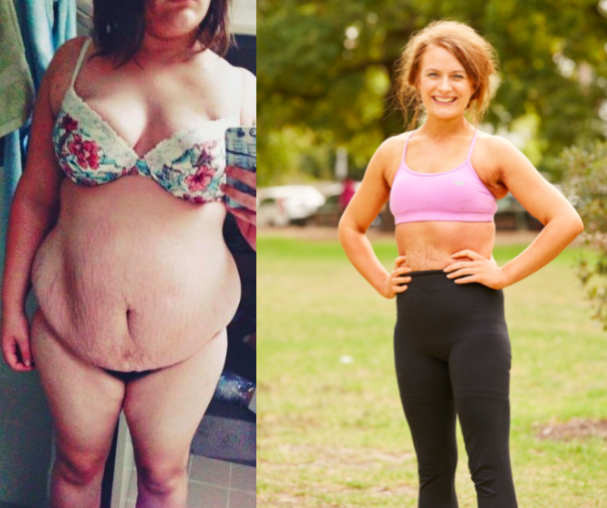 "Lose Baby Weight helps you understand HOW to lose weight. The SAFE way to do it, and WHY it happens a particular way. I could not recommend a program more than Lose Baby Weight."
You won't regret it!
Join the challenge here