Who doesn't love Milo? Well my family sure does, especially my partner! This healthy homemade alternative is full of so many nutritional benefits and lower in calories.
This is a quick, easy and healthy recipe that you can make in your own kitchen using a blender or hand stick blender. Not all the ingredients have to be organic as I know organic food can be costly sometimes but healthier if you can afford them. The combination of nuts, coconut sugar and cacao/cocoa makes a great flavour!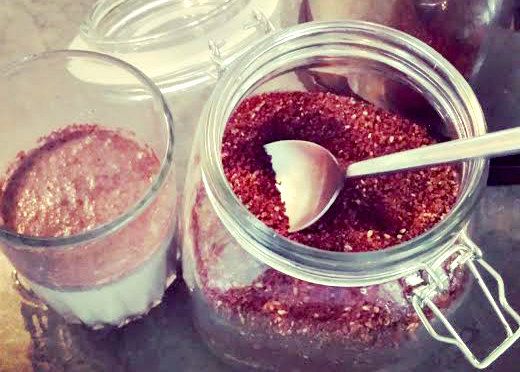 Ingredients
1/2 cup LSA
2 tbsp organic sesame seeds
1/4 cup brazil nuts
2 tbsp organic pepita seeds (pumpkin seeds)
1/4 cup organic cashews
1/4 cup organic pecan nuts
1 cup organic cacao or cocoa powder (more if desired)
1/2 cup coconut sugar (more if desired)
Method
Add all nuts and seeds together and blend until they become a fine powder, a coffee grinder would be great for this if you want it extra fine but I actually like it a little crunchy.
Add cacao powder and coconut sugar and mix thoroughly. Test a little in some milk and add more cacao or coconut sugar if desired.
Use about 1 tbsp in a glass of milk of your choice (I like it in skim milk) and stir briskly. But please note the mixture will not dissolve completely like normal 'Milo' because of the nuts and seeds.
Store in an airtight container and it will keep for 2 months in the fridge and can also be stored in the freezer.
35 Serves, 48 calories per serve
Thanks Tasheena!