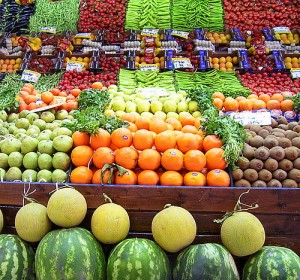 A healthy diet not only helps you lose baby weight but it also helps you keep other things at bay, such as postpartum depression and hormone imbalances. In other words, eating healthy and planning your diet properly can help you improve your mood and provides you with the energy you need to perform your duties as a new mother.
There are a few factors that can affect a healthy diet and switching to organic produce can help increase the effectiveness of your diet. Especially if you are a breastfeeding mum, you will want your milk to be clean and nutritious for your young one. The reason why organic food is so revered over conventional produce is because of its nutrient dense qualities and the fact it is free of pesticides.
Organic food is typically free of pesticides, chemicals and additives that can derail your weight loss plans and affect the chemicals in your system. A well balanced diet will also help you avoid symptoms of postpartum depression. 
Vegetables provide many vitamins and minerals including vitamin A, vitamin C, folic acid, potassium and magnesium which help optimise your body's recovery after post pregnancy. It also helps you to avoid common post pregnancy complications such as constipation and haemorrhoids.
However, we understand that fully changing your whole diet plans to include organic foods will also cost a lot of money. Don't worry, a recent study in Environmental Working Group's 2012 Shopper's Guide shows the type of food produce that are most contaminated with pesticides and helps you determine the food that you should buy organically.
In the guide, they discovered that soft skin produce are more likely to absorb pesticide and the same goes for produce that are grown close to the ground or in contaminated soil. The amount of residue did not show any reduction in non-organic produce even after being washed and peeled. This means that no matter how hard you try, the pesticides that are already in your produce can never be eliminated.
According to the shopper's guide, the top 12 produce with the highest trace of pesticides are apples, celery, sweet bell peppers, peaches, strawberries, nectarines, grapes, spinach, lettuce, cucumbers, blueberries, and potatoes. 98% of conventional apples had pesticides in them and celery, a very common dietary snack, was found to be highly contaminated and tested positive for 57 different types of pesticides. In this case, you should opt for the organic produce instead of these conventional ones because of they can be  contaminated with pesticides which are bad for you.
A list of produce with the least pesticides is also available so that you can opt to buy them as non-organic: onions, sweet corn, pineapples, avocado, cabbage, sweet peas, asparagus, mangoes, eggplant, kiwi, cantaloupe, sweet potatoes, grapefruit, watermelon, and mushrooms. It is shown that only 1% of onion samples had pesticides in them and 98% of all frozen and sweet corn samples had no pesticide residues in them.
Now that you know the benefits of switching to organic produce, combine it with our 28 Day Diet & Exercise Plan to get the best post pregnancy weight loss results. Don't forget to check out our current promotions and discounts page to see what specials we have on this week on our Healthy Mummy product range.