When you're trying to lose baby weight, healthy recipes that can both satisfy a sweet tooth at the same time as providing a nutritious snack are exactly what you need to assist in healthy weight loss. There are huge benefits to a diet with moderate levels of protein – it's a nutrient that's essential for rebuilding muscles after a workout, for building lean muscle mass and is fundamental to the necessary healthy function of every last cell in our body. It also comes with the added bonus of making you feel full, and that means it can lead to reduced hunger levels, eating less overall, and as such is a brilliant way to assist weight loss, and is perfect to use on one of our Lose Baby Weight plans.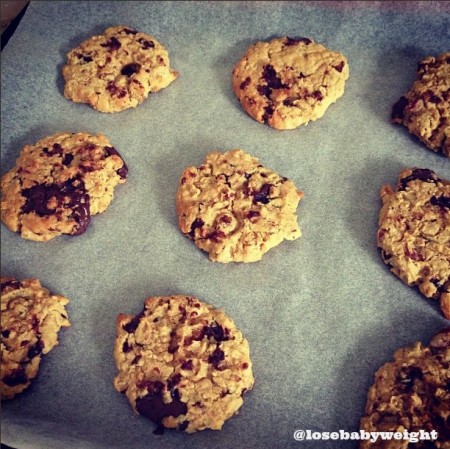 So today's winning shot of her healthy protein cookies from @missacat132 caught our attention, as it's not only a great recipe for a great tasting snack, it's also a convenient hit of protein that will keep you feeling full between meal times. Perfect for satisfying a sweet tooth, you can enjoy them guilt-free in the knowledge that they are packing in the nutrition as well! Check out our healthy protein cookie recipe here to try making your own.
So congratulations to today's winner @missacat132 for posting her healthy protein cookies – the Lose Baby Weight prize pack consisting of 1 x 28 day diet & exercise plan, 1 x healthy mummy smoothie and 1 x Tracy Anderson Mat Work out – all worth $100 is winging its way to you!
And don't forget you can enter to WIN THIS PRIZE PACK A DAY EVERY DAY in JUNE by following us on Instagram – @losebabyweight and uploading your best healthy recipe photo to #losebabyweightrecipes T&C's are here.
PLUS don't forget we have our Winter Weight Loss Challenge on it June too – we have15% off products and plans, $3,000 in Myer vouchers up for grabs and all the helps and support to help you lose weight this winter! Find out more here.