Hayley Lloyd has lost an amazing 19kgs with Lose Baby Weight and becomes a Motivating Mum for December.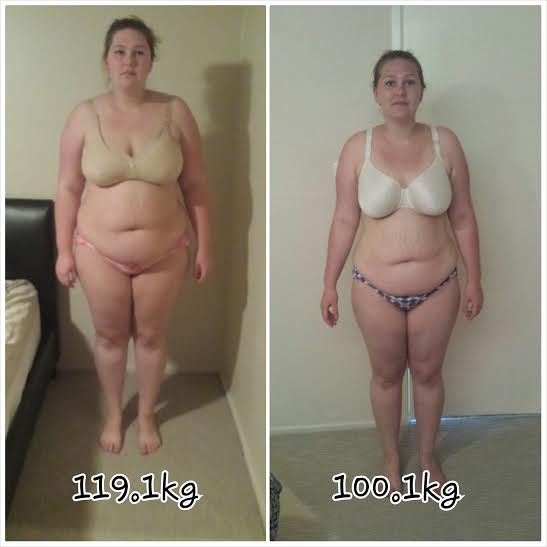 I am a 20 year old mum of a 5 month old boy and I am one of the December Motivating Mums. I have always been overweight and have always hated my body. I have tried many different "fad" diets and ended up gaining far more weight than I lost. I first came across Lose Baby Weight while I was heavily pregnant with my son. I was the heaviest I had ever been (127kg) and I didn't want to stay like that, I wanted my unborn baby to be proud to have me as a mum. I wanted to be a good role model but most importantly I wanted to be happy and healthy. I was pleasantly surprised when I stumbled upon Lose Baby Weight, this was real food done by real mums and looked totally achievable.
I started off using the 28 Day Diet and Exercise Plan when I was 4 weeks post-partum and weighing in at 119.1kg. I took it one step at a time and focused all my energy on eating right. I got my fiancé on board and together we successfully completed the plan. We were pleasantly surprised, it didn't feel like we were on a diet and many of the meals, such as the Sang Choy Bow, tasted too tasty to be healthy.
I then went on making up my own meal plans using the 28 Day Diet and Exercise Plan and the free content on the website. I loved the food and so did my fiancé so I decided to become a subscriber to the 28 Day Challenge and September was my first Challenge. The Challenges are just as amazing as the other Lose Baby Weight products and I continue to learn how to fuel my body properly with good wholesome food. My favourite recipe so far has been the Quinoa Risotto with Asian Greens.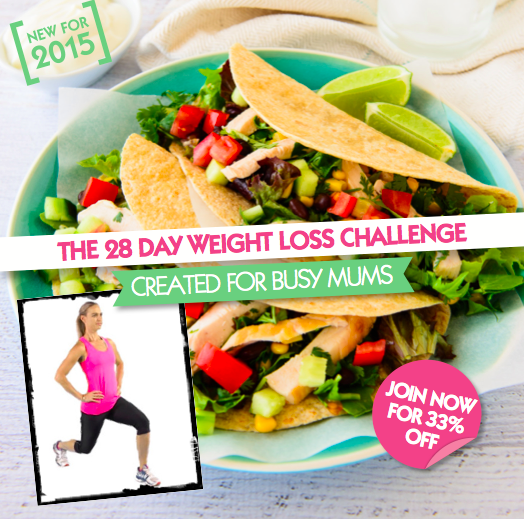 In regards to exercise I had an emergency c-section so have had to ease into it slowly. At 6 weeks post-partum I started going for walks with the pram, at 12 weeks post-partum I started jogging with the help of the C25K app and at 4.5 months post-partum and the start of the November 28 Day Challenge I participated in the Challenge exercises.
I love how I can do the Challenge exercises at home and if my son is being sooky I can pick him up and complete them holding him, adding extra weight and making it harder. I especially love the videos showing you how to do the exercises as before starting I had never heard of some of them!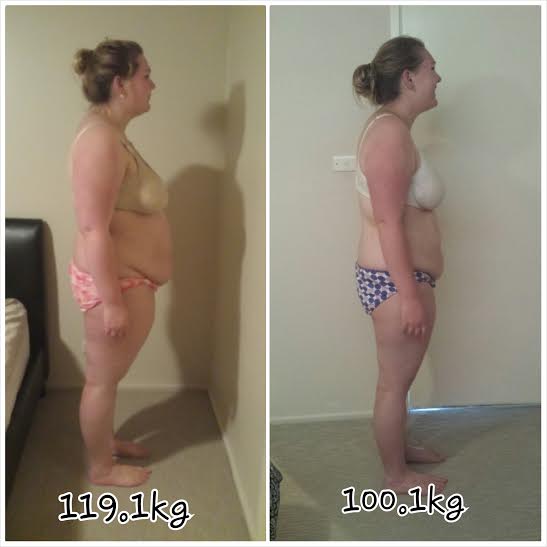 I have always labelled myself as somebody who hates exercise and at the start I forced myself to do it as I knew it was good for me but now I don't have to force myself. I love how I feel after I exercise, it boosts my mood and energy. My fiancé and I do a weekly 8km walk/hike around a nearby lake and we are shocked at how much we like it and that we choose to do it instead of sitting around watching TV like we use to.
The thing I was most scared of starting my weight loss journey was dealing with sweet cravings. I have always had a sweet tooth and thanks to Lose Baby Weight I haven't had to give up my sweet food. The Guilt Free Chocolate Baking Book has become my saviour and I use it on a weekly basis.
The best thing about Lose Baby Weight is that you don't have to go without, if you love chocolate like I do you can still eat it, but now I choose healthy chocolate options such as the Flourless Chocolate Cake or Chocolate Fudge Bites. Lose Baby Weight has taught me how to swap unhealthy food for their healthy counterparts, how my metabolism works and that I need to eat regularly to lose weight and has taught me how to portion control.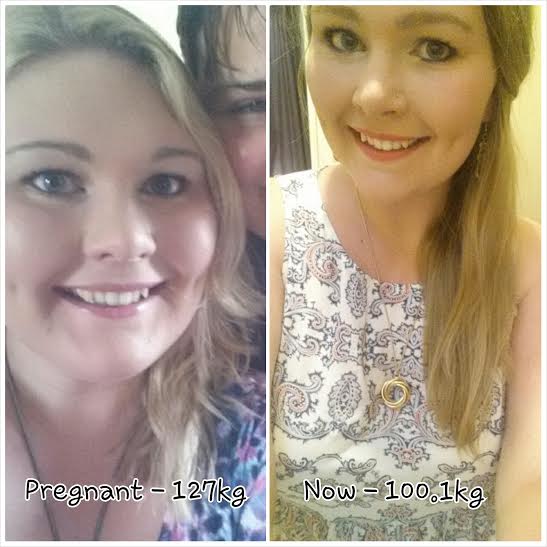 So far on my weight loss journey with Lose Baby Weight I have gone from 119.1kg to 100.1kg, losing 19kg and a massive 134.5cm since July this year. I am now wearing a size 14-16 instead of a size 18-20/22. I have gained confidence and am learning to love my body. My goal weight is 75kg so I have 25.1kg to go to reach my goal and I know that I will reach it with the help of Lose Baby Weight.
The biggest thing keeping me going is my son, I don't want him to grow up being overweight, teased and hating his body as I did. The biggest help has been my fiancé, get your partner/family on board. The food is super partner and family friendly and not only will they be becoming healthier but it is a massive help when there is someone in the house doing it with you. Find something that motivates you and remind yourself of it every day and make sure there are no temptation foods in the house!
I am looking forward to being a Motivating Mum this month and am hoping that I can help to motivate and inspire you to become a happy and healthier self. This month I am looking forward to experimenting with the Healthy Mummy Smoothies, making healthy festive food with the Christmas Cookbook and using the Lose Baby Weight Workout DVD! Ladies, let's make this month a good one and all look amazing on Christmas Day!!
Need to stock up on Healthy Mummy Smoothies? Then see our shop here
And join our 28 Day Weight Loss Challenges here