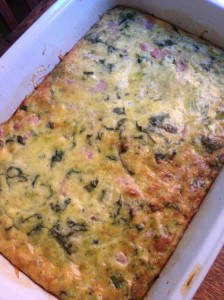 Today I made this quick and easy dinner for my toddler, and ended up having it myself too, it was so tasty.
It's always great to have eggs in the house for a quick and easy meal. They are packed with protein and fill you up so you don't feel hungry later.
This recipe is easily adaptable to whatever you have on hand. Replace the spinach with grated zucchini or carrot; try cooked chicken instead of the ham; add some cherry tomatoes or even a tin of corn.
If you have time, you can make your own easy pesto and keep it in the fridge to use for all sorts of meals. Or the store bought pesto is great too and keeps well.
The best part is, you just need to pop it all in a dish and cook it in the oven. No stirring, straining or stove-watching required.
Keep an eye on the seasoning if you plan to share this with your children.

Ingredients:
6 eggs
1 cup milk
1 tbsp pesto
2 handfuls of chopped ham off the bone
100g spinach, washed and chopped
Salt and pepper, to taste
½ cup cheddar cheese, grated
Method:
Preheat your oven to 200C.
Crack the eggs into a baking dish and whisk lightly.
Add the milk and the pesto and whisk again to bring it all together.
Add your ham, spinach and season to taste before giving a final stir.
Top with the grated cheese.
Bake in the oven for around 25-30 minutes or until the top is golden.
Allow to cool for 5 minutes before slicing up to serve.
Serves: 6. Calories per serve: 188.

GET YOUR 10% DISCOUNT
If you are ready to lose weight then the Lose Baby Weight plans offer a healthy and safe exercise and diet routine and you can get a 10% discount by using code LOYALTY at the checkout
PLUS our BEST SELLING 28 Day Diet & Exercise Plan has now launched as an 84pg Printed Book and you can get your copy here 
Click HERE to see our shop