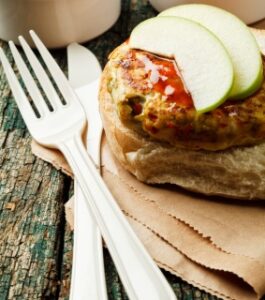 Instead of reaching for the processed burgers in the frozen section of the supermarket, check out this super easy (and very healthy) recipe to make your own chicken burgers.
Fresh herbs are a great way to add some serious flavour to your cooking. Not only do they taste great, they also have many health benefits for weight loss and for your body in general.
Ginger, chilli and garlic are really in the top 3 when it comes to the world's favourite spice combinations.
Ginger: known to promote energy circulation in the body while positively increasing the body's metabolic rate.
Chilli: research has shown that they encourage your body to burn fat and curb your appetite.
Garlic: contains the compound allicin which is thought to suppress the appetite
Ingredients:
400g lean chicken mince
2 tablespoons of tamari or soy sauce
1 tablespoon freshly chopped ginger
1 small red chilli, de-seeded and finely chopped (optional)
1 garlic clove finely chopped
Small bunch of fresh coriander
1 cup of grated carrot
1 cup of grated sweet potato
Wholemeal flour to coat patties
Olive oil spray
Method:
Heat a frying pan on medium to high heat.
Place all the ingredients (except the flour) in a food processor and blend until the mixture is smooth.
Place a few spoonfuls of the wholemeal flour on a plate.
Wet your hands and shape the mixture into burgers. Lightly coat them in the flour.
Spray your pan with the olive oil spray. Cook the patties for four minutes each side, or until golden.
Serve with a crispy side salad; or on a wholemeal bun with salad leaves, beetroot and tomato.
Serves: 6. Calories per serve: 185.
GET YOUR 10% DISCOUNT
If you are ready to lose weight then the Lose Baby Weight plans offer a healthy and safe exercise and diet routine and you can get a 10% discount by using code LOYALTY at the checkout
PLUS our BEST SELLING 28 Day Diet & Exercise Plan has now launched as an 84pg Printed Book and you can get your copy here – with free express postage if you order the book on its own
Click HERE to see our shop