Beetroot, in all its forms is a delicious addition to  a healthy diet.
Packed full of nutrients and vitamins, and low in calories, it's the perfect food when you're trying to lose baby weight or follow a healthy eating plan.
You can read more about the health benefits of beetroot here.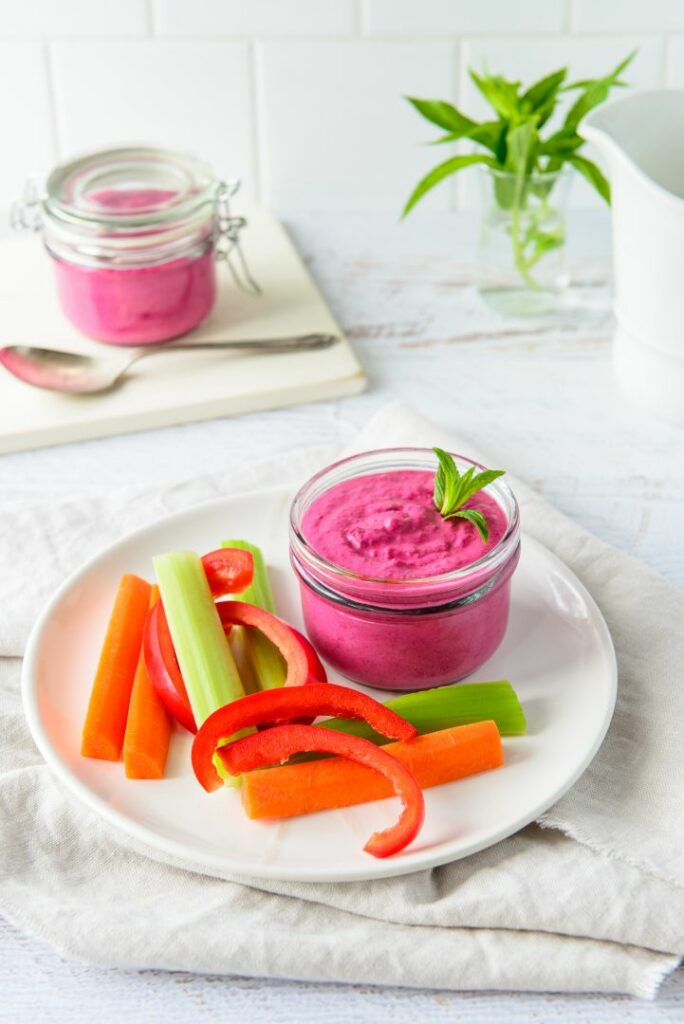 While the deep red colour of this superfood is a dead giveaway to its presence in a dish or a juice, it's actually that colour that gives a huge helping of antioxidants, essential for healthy weight loss and general health and well being.
When most people think of beetroot, they imagine it in its raw form, usually as part of a salad or on a sandwich.
Canned beetroot is an easy, cost effective way of getting beets in to your diet, but there's a whole world of other options for this humble vegetable.
I'm a big fan of delicious spread on my daily sandwich. Lower in calories than mayonnaise and packed with a whole heap of extra vitamins, adding a yummy spread is also a great way of keeping lunchtime interesting.
This spread also features low fat Greek Yoghurt for calcium and cashew nuts for a hit of protein. These ingredients, combined with nutrient dense beetroot, make for a winning combination for your waist line.
Pregnant women and those breastfeeding and trying to lose baby weight will especially benefit from the addition of calcium and protein.
Ingredients
4 fresh beetroots, topped and tailed and rinsed
1 cup of low fat Greek Yoghurt
1/2 cup raw cashews (not roasted and salted)
1 clove garlic, crushed
2 tbsp lemon juice (freshly squeezed or from a bottle)
1 tbsp olive oil
1 tspn ground cumin
1 tspn ground cinnamon
Directions
Preheat the oven to 200C
Combine olive oil and crushed garlic.
Place beetroots on a baking tray and drizzle with olive oil/garlic mixture.
Place baking tray into the oven and roast for approximately 45 minutes.
Once time is up, remove baking tray from the oven. Allow beets to cool slightly before peeling away the outer skin. You may want to wear gloves for this part to prevent your hands from staining. Skin should come away very easily if baked through.
Slice beetroot into wedges and set aside.
Place cashews into a food processor bowl and coarsely chop (you could do this by hand if needs be).
Add beetroot, yoghurt, lemon juice and spices.
Process until mixture has a chunky but spreadable consistency.
Store in an airtight container in the fridge for up to three days.
Makes 6-8 servings – Calories per serve – 108