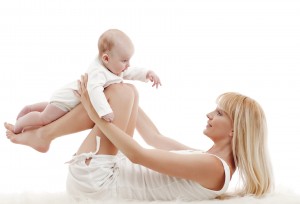 A well-rounded post pregnancy exercise regime is highly important to help you get the best out of your Lose Baby Weight plans.
There are multiple muscle groups in the body but there's one particular group that's highly important for functional movement, the core.
Core muscles are basically the muscles around your trunk and pelvis area including the pelvis, lower back, hips and abdomen muscles.
It's really good for post pregnancy mums to do some core exercises to regain body strength, alleviate sore aching muscles, lose belly fat, and improve overall physical performance. Now, let's take a look at a few simple core exercises that you can do from the convenience of your own home!
Superman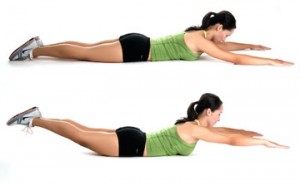 As the name suggests, this exercise will make your lower back and glutes (buttocks) feel super!
1) Lie with your stomach on the floor with your legs straight and arms extended forward like Superman.
2) Keep your limbs and torso straight. Simultaneously lift your arms and legs to form a gentle curve with your body. Hold for 5 – 10 seconds.
3) Whilst holding, remember to breathe slowly and don't hold your breath. Good breathing will make this exercise more effective.
4) Return to starting position and repeat 10 – 20 times depending on how your back feels.
Chair Sit-Ups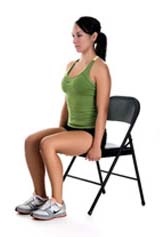 This is another relatively simple exercise to strengthen your lower back for added support. All you need is a chair and to follow these few simple steps.
1) Sit up straight in a chair with your feet firmly planted on the floor, and hands holding the side of the chair for added support.
2) Slowly bend forward whilst keeping your back straight at the same time. Try to get your chest as close as possible to your thighs.
3) Then return to your starting position by slowly straightening your back up, using your back muscles to raise your torso.
4) Repeat for about 10 – 20 times depending on your preference.

Sit-To-Stand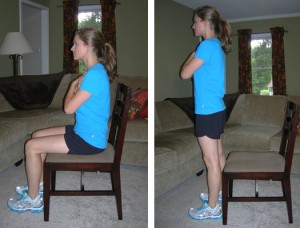 Now, this simple chair exercise will help to strengthen your abdomen and thighs – and you can do it at home at any time.
1) Sit towards the edge of the front of the chair. Make sure you get a sturdy chair so that you don't fall over when doing this exercise.
2) Fold your arms across your chest.
3) Remember to always keep your back and shoulders straight while you lean forward slightly.
4) Focus on standing up slowly with only your legs without the added help of other parts of your body. Then, slowly sit back down to return to your starting position.
5) Repeat for 10 -20 times until your legs feel like they're getting a good workout.

Knee Lifts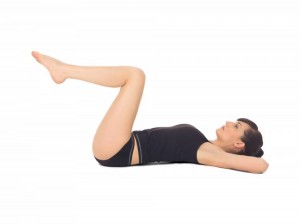 When done correctly, this exercise is quite simple and it also helps to strengthen your abdominal, lower back, and thigh muscles.
1) Lie down flat on the floor on your back with your hands straight to your sides.
2) Pull in your feet towards your body with your knees bent towards the ceiling. Make sure that the knees are kept together.
3) Keep your knees bent in this position and slowly lift your knees towards your chest.
4) Return to your starting position and repeat 10-20 times.
5) Remember to breathe in and out whilst preforming this exercise.
These exercises are so simple yet highly effective, and the added convenience of doing it from home makes it even better for you! Combine these simple core exercises with our 28 Day Diet & Exercise Plan and start optimising your weight loss goals today!
Please note these exercises should only be performed by women with no post natal injuries and after there is full recovery and no separated abs
Get Our Exercise DVD
And for the ULTIMATE SAFE, EFFECTIVE & TRUSTED Post Pregnancy Workout – see our EXPERT Post Pregnancy Exercise DVD below – you can purchase and see more information on it here
The DVD can be followed by all mums (for example new mums or mums with older children) and can be followed by someone with a basic or a more advanced level of fitness.
Lisa Westlake is our incredible fitness instructor and postnatal exercise specialist throughout the DVD. With her extensive physiotherapy experience and qualifications (Lisa is one of the most awarded fitness professionals in Australia), Lisa is the perfect fitness instructor to bring The Healthy Mummy Post Pregnancy Exercise DVD to life – you will love working out with her. (You can see our Q&A with Lisa with commonly asked questions on the DVD here)
The exercises in The Healthy Mummy Post Pregnancy Exercise DVD are effective and safe and Lisa will guide you through each of the workouts. As well as assisting in the improvement of your overall fitness levels, the workouts in the DVD will also help in the burning of calories, the improvement of your core strength and the strengthening of your pelvic floor.
The six workouts are broken down into 10 and 15 minute sections that you can do when it suits you – or if you have the time and energy you can do the DVD as one 70 minute continuous workout. The Healthy Mummy Post Pregnancy Exercise DVD also covers special considerations post-birth, such as caesarean sections, back strains, muscle separation, incontinence and pelvic floor issues.
[pb_vidembed title="The Post Pregnancy Exercise DVD" caption="" url="http://vimeo.com/73423922″ type="vem" w="600″ h="450″]
GET YOUR 10% DISCOUNT
If you are ready to lose weight then the Lose Baby Weight plans offer a healthy and safe exercise and diet routine and you can get a 10% discount by using code LOYALTY at the checkout
PLUS our BEST SELLING 28 Day Diet & Exercise Plan has now launched as an 84pg Printed Book and you can get your copy here 
Click HERE to see our shop