For many years, and in the quest to find
the best ways to lose weight
, scientists have been looking for reasons why so many people overeat food that is so bad for us, food that is fatty, salty and sugary. There are many theories to explain this overindulgence, which is also linked to the increase in obesity and the inability to
lose stomach fat.
Our
Comfort Eating Weight Loss Plan
and
weight loss recipes
 aim to educate you and retrain your brain, so that you move away from the traditional unhealthy comfort foods and instead begin to enjoy a
healthy eating plan
and cleaner version of comfort eating.
A lot of experts believe that people reach for comfort food for psychological reasons, both positive and negative, such as feeling happy and in the mood to celebrate or trying to cope with anxiety, boredom or sadness. Over the colder months, people also tend to reach for comfort foods, with many people gaining more than four kilograms over winter and gaining
stomach fat.
Others have suggested that our preferences stem from our evolutionary background, that we are biologically programmed to crave certain foods that used to be hard to come by, but are now available in abundance – and do not often form part of a
healthy eating plan.
Some suggest it's our consumer culture that causes us to graze almost constantly. Then there are those who blame the food industry for making us hooked on their products through relentless advertising and even by adding ingredients that work like opiates, turning us into addicts.
Either way, we are on hand to help to show you the
best ways to lose weight
or to just be healthier.
And you can purchase our Comfort
Weight loss recipes
and
healthy eating plan here
, plus below is a preview of one of the delicious recipes you will find inside – Chicken & Buckwheat Noodle Soup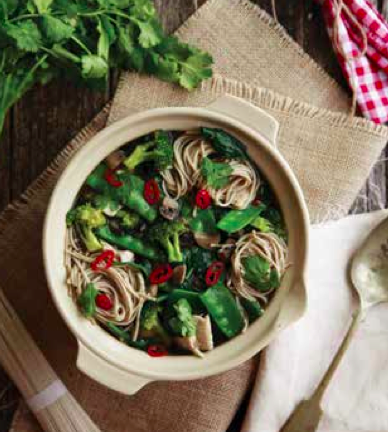 Ingredients
2 garlic cloves, finely sliced
500ml reduced-salt chicken or veggie stock • 1 tbsp finely grated ginger
500ml water
600g organic skinless chicken
breast, thinly sliced • 300g mushrooms
200g buckwheat noodles
200g snow peas
1⁄2 bunch broccoli, cut into florets
200g baby spinach leaves
1 bunch coriander, leaves washed and finely chopped
1 tbsp tamari or soy sauce • 1 lemon
Method
Combine garlic, stock, ginger, water, chicken and mushrooms in a large pot and bring to the boil. Reduce heat to medium-low and simmer for 10 minutes.
Meanwhile, cook the buckwheat noodles according to packet directions and divide into serving bowls.
Add the snow peas and broccoli to chicken soup, followed by the spinach and coriander leaves.
Season with tamari or soy and a squeeze of lemon.
Pour soup over noodles to serve and enjoy as part of your
healthy eating plan
Serves 4  – 477 calories per serve
Nutrition note: Despite its name, buckwheat is actually a seed and a great wheat substitute for people following a gluten-free diet
To preview the Comfort Eating Plan and one of the best ways to lose weight click here
Need to stock up on Healthy Mummy Smoothies? Then see our
 shop here
And join our 
28 Day Weight Loss Challenges here
Results from mums on the 28 Day Challenge
Mums lose an average of 4-6kg* (8-13 pounds) on our 28 Day Challenge and below are some of the amazing results from mums JUST LIKE YOU who are already using the 28 Day Challenge and losing tummy fat – make the change and join them today too!
You can see lots of results and you can join here too
Annette Lost 20kgs* with the 28 Day Challenge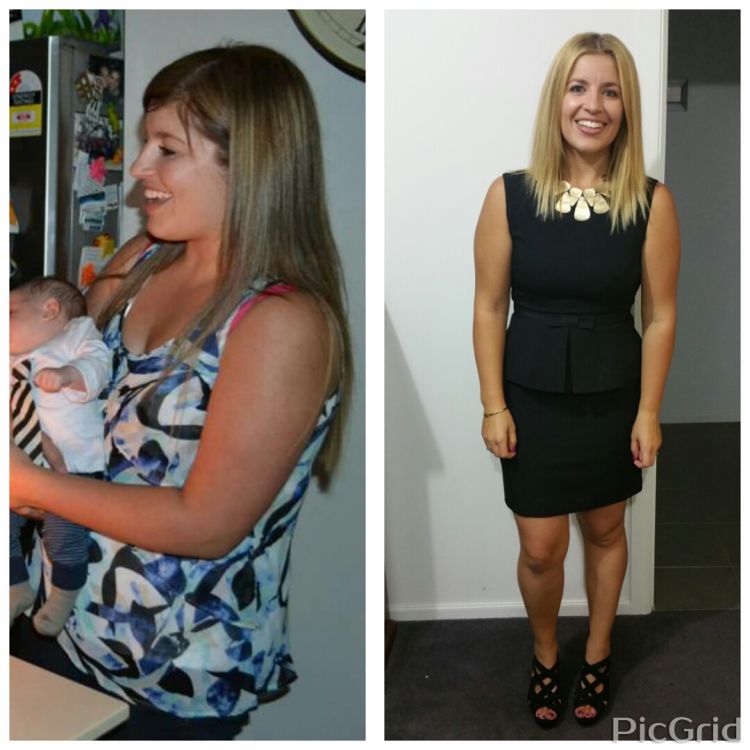 Annette says: "The 28 Day Challenges have completely changed how I think about food and exercise. I am so much more aware of what I'm putting in my mouth each meal, rather than just mindlessly eating whatever was available or 'easy'.
A year ago I'm pretty sure I could've bought shares in KanTong. Today I'd much rather whip up the healthy Lose Baby Weight Butter Chicken from scratch for myself and my family.
The beauty of the Challenges is that everything is there, right at your fingertips, for you to be successful. Customisable meal plans, shopping lists, hundreds of recipes with new ones being added all the time, tracking tools, the list goes on.
The simplicity of being prepared each week is what has consistently kept me on track."
Join now
You won't regret it!