Hello, my name is Carolyn and with the help of the Lose Baby Weight plans and products I have lost 23kg and 84cm since beginning my weight loss journey in July 2013!
I have reached my goal weight, I feel fantastic and I am very excited to have this opportunity to continue my weight loss journey as a motivating mum in February.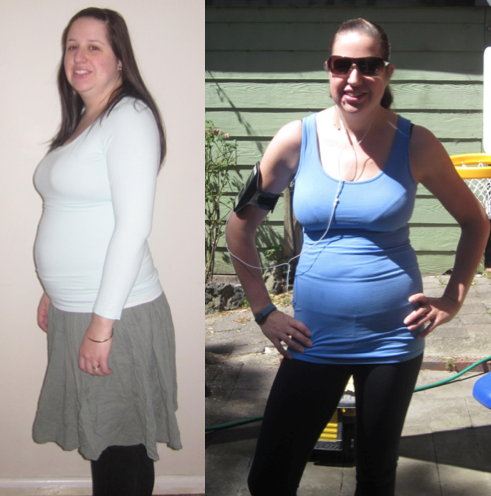 First I little bit about me and leading up to the day I discovered the Lose Baby Weight website and transformed my life.  Growing up I was healthy, active, slim, wore whatever clothes I wanted and I took it for granted that I would never have a problem with my weight or health.
The weight started to creep on after I turned 18 but it was when I moved out of home at 23 that my weight really started to become a problem.   I tried a few different diets over the next few years but they were never sustainable long term and I would put the weight back on.
At 26 I got married and 9 months later we welcomed our first son, Xavier.  I found it very hard to lose the baby weight and I think I just gave up after a while, threw all my smaller clothes away and resided myself to the fact that I was always going to be overweight.   My second son, Campbell was born 2 years later and then the 3rd Bailey was born in June last year.
After the birth of Bailey I was very unhappy with my reflection in the mirror, my health was suffering and I knew if I was going to have the energy to look after 3 little boys I needed to lose the weight, get fit and also set a good example for my boys.
I had never been too sure on the best way to approach weight loss whilst breastfeeding until I discovered the Lose Baby Weight website.  I started reading all the weight loss stories and I was inspired, motivated and very impressed with all the available information, weight loss tools and products available.  I order the "get started pack" that day, it arrived 2 days later and I got started the very next day.
I began by following the 28 day diet and exercise plan combined with a healthy mummy smoothie every day for lunch.  I chose to focus on food first and found that following the meal plan was easy.  I would sit down with the meal plan at the start of the week; make a few little changes as needed to suit our schedule/budget and head to the supermarket with my shopping list.
I made the commitment to myself at the beginning that I would try every breakfast and dinner at least once.  I personally found that I didn't need a different breakfast every day and eventually just chose 3 of my favourites but I loved the dinners!!!!   I found I was actually looking forward to cooking something new, trying new foods and sharing the recipes with my family.
The biggest challenge I faced during these early days was breaking bad habits and craving sugar.  I stayed motivated by using the Lose Baby Weight website and Facebook page.   With so much advice and tips I found ways to satisfy my cravings without overloading on calories and learnt the best foods to eat to sustain my energy levels and keep me fuller for longer!  It hasn't always been easy but the support has been fantastic!
So now as I sit here writing this I am very pleased to say that I achieved my goal weight of 70kg, down from 89.9kg in November and am currently weighing 66.5kg.  I wasn't always so good over the Christmas and New Year's period but I am motivated to stay on track and I hope that by being a February motivating mum I can motivate other mums just like me to achieve their weight loss and health goals too.
My personal goal for February is to maintain my current weight, improve my fitness level and tone up!  My plan is to begin the month with the 3 day cleanse from the spring, summer cookbook, then continue to cook all my meals from this cookbook, the 28 day meal plan and recipes from the website.
I will continue with my healthy mummy smoothies for lunch and try at least 3 new smoothie recipes a week.  I will also exercise at least 5 days a week for 30 minutes using a combination of the healthy mummy post pregnancy DVD, walking with the kids, riding my mountain bike and my newest activity – jogging.  I currently jog 1km and my aim is to participate in my first fun run later this year.
I'm looking forward to this new challenge and making February a fit, fun month!!!