There are two questions that 99% of women don't want to hear. "When is the baby due?" when you're not pregnant is the first. "How many weeks are you?" or "You're huge/enormous/tiny/barely showing," is the second. There are a few other things women who are pregnant in particular just aren't keen on hearing either……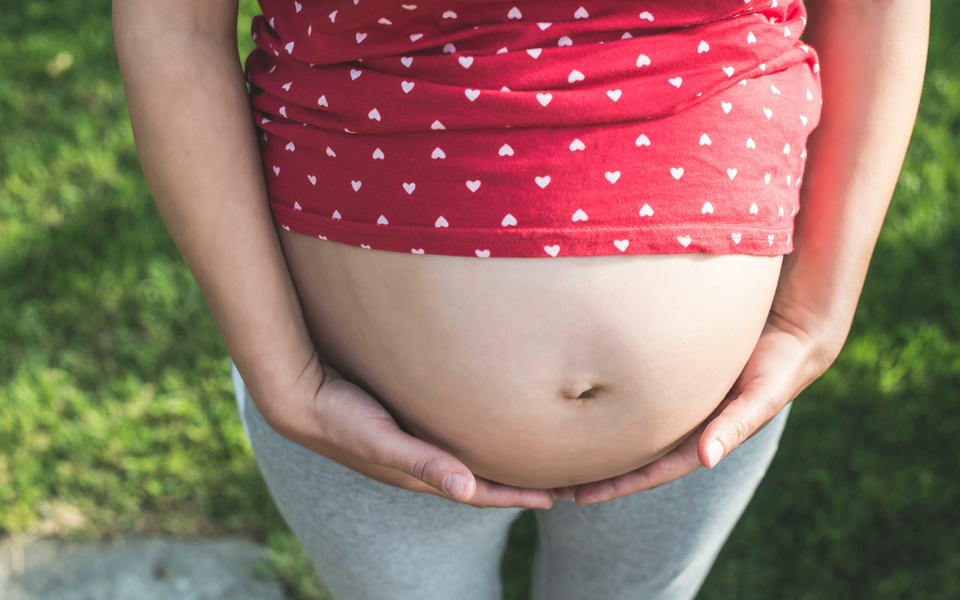 Some include:
How many have you got in there?
Are you sure it's not twins?
Gosh if you're this big already, imagine what you'll be like in 4 weeks/4 months time!
Your baby is going to be huge/tiny!
Why is your bump so small?
It seems that there's something about pregnancy that turns a woman's body into 'public property'. We wouldn't dream of walking up to a non-pregnant colleague and going in for a belly rub, or turning to a friend after dinner and joking that she must be smuggling 16 trays of lasagna in her belly, such it's size.
For some reason however, these actions seem perfectly normal and even acceptable during pregnancy. While plenty of pregnant women are more than happy to discuss their growing bellies with family and loved ones, talking 'Dave from Accounts" is a completely different story.
New mother and fitness professional Revie Jane recently shared an account on her Instagram Page of the time she went dress shopping while 24 weeks pregnant – only to be questioned about the size of her baby bump. She recounts that the shop assistant was stunned by the size of her bump;" Holy moly!' My friend is 36 weeks and you're only 24 weeks and you're WAY bigger than her." Revie was left in tears, especially after the shop assistant repeated the comments to the lady trying on dresses in the next cubicle.
The comments were almost the straw that broke the camels back for Revie after plenty of online commentary about the size of her belly. The post ended up going viral with plenty of other women chiming in with their own experiences of 'belly shaming' behaviour.

Pregnancy can be a difficult time when it comes to body image. All of a sudden your body starts changing in a whole bunch of different and sometimes unexpected ways. Not only will you almost certainly put on some weight, you may find that other parts of your body change shape too.
While most of us expect our belly to become round, we don't expect our thighs or bottom to get curvier but this often happens, especially in the later stages of pregnancy when your body is laying down fat stores for birth and breastfeeding. We also have to contend with body image saboteurs like stretch marks and cellulite along with the less visible, but just as frustrating bloating and heart burn. Pregnancy is hard work!
It can be hard to adjust to all the changes happening both inside and out but trying to nurture a healthy self esteem and body image is important.
Here are our top tips for learning to love your pregnancy body
1.Accept that changes are going to happen. It's inevitable.  Reminding yourself regularly that what's happening is completely normal and natural can help make navigating the changes a bit easier.
2. Focus on staying fit and healthy – Weight loss while pregnant is something we don't support at The Healthy Mummy. That doesn't mean however, that you need to stop focusing on your wellness as a whole. In a healthy pregnancy, regular exercise is encouraged,as is a healthy pregnancy diet.
3. Nurture and nourish yourself mentally – Pregnancy can be an anxious time with plenty of worries percolating around in your mind. Looking after your mental health is just as important as your physical wellbeing. Meditation is a great skill to learn during this phase of your life and can even be helpful during labour and birth.
4. Pamper yourself – There's nothing quite like a lovely soak in a warm bath or regular massage with a beautiful body oil to leave you feeling content and loved. Indulging in self care practices like regular baths or stocking up on some gorgeous, pregnancy specific body products is a great way to spend some time with your bump while nourishing your skin and helping prevent itchiness and stretch marks.
5. Share how you're feeling – It's important to let your partner and close friends know how you're feeling, especially when you're struggling with your changing body. Talk to them about what's happening with your body and how it's making you feel so that they can support you and offer plenty of love and reassurance.