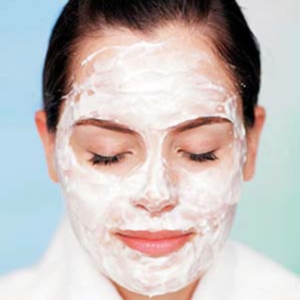 Hopefully if you have been following the Lose Baby Weight page and weight loss plans you will now have lots of healthy foods stocked in your fridge and cupboard and as well as being great for our insides, healthy foods can also be great for our skin – specifically as skin masks.
And of course, sometimes it's nice to take a bit of time out to relax with a pampering session. So with a trip to the spa or the beautician potentially costing hundreds of dollars, we are bringing you some home made healthy skin masks that you can make from ingredients from your cupboard.
You can make numerous skin masks that will hydrate, tighten and brighten your skin using ingredients that you will probably already have in the fridge or in your store cupboard. Here are some of our favourite skin mask recipes.
Egg White & Yoghurt Mask
This is an excellent mask for tightening and brightening the skin – and best of all, it only has two ingredients.
You'll need: 2 egg whites, 2 tbsp. Greek yoghurt
Directions: Mix ingredients until smooth, then apply to the face using the fingertips. Leave on for 5 minutes, then wash off with warm water and a warm washcloth.
Why is it good for my skin? The proteins in egg whites are known to have a tightening effect on the skin, and the active enzymes in Greek yoghurt are known to help clear skin of spots and blemishes.
Pumpkin Pulp Mask
This is an easily adaptable mask that you can use whether you have oily skin, dry skin or combo skin – just follow the recipe tweaks.
You'll need: ½ cup fresh pumpkin pulp, 2 eggs, (for combo skin add 2 tsp. almond milk, for dry skin add 1 tsp. honey, for oily skin add 2 tsp. apple cider vinegar or cranberry juice)
Directions: Mix ingredients until smooth in a blender, then apply to the face using the fingertips. Leave on for 15-20 minutes, then rinse with cool water and moisturise.
Why is it good for my skin? Pumpkin is actually full of natural exfoliating acids and antioxidants, meaning that it will help to clear your skin of blemishes whilst also protecting it against further outbreaks. The almond milk will calm down redness and help prevent dryness, the honey will help to moisturise skin and the acidity of the vinegar will combat oiliness.
Coffee & Cocoa Mask
Coffee is a brilliant ingredient for face masks as the caffeine in it will help to combat redness or puffiness and will leave you looking much more awake.
You'll need: 4 tbsp. ground coffee beans, 4 tbsp. unsweetened cocoa powder, 8 tbsp. Greek yoghurt (for super dehydrated skin, use 4 tbsp. oil of your choice instead) 2 tbsp. runny honey (for dry skin), or 2 tbsp. lemon juice (for oily skin)
Directions: Mix coffee and cocoa, then add the yoghurt or oil until you get a smooth paste. Stir in the honey or lemon juice, then apply to the face and neck using the fingertips. Let the mask dry onto your face (up to 20 minutes) then use a damp washcloth to soften the mask and then rinse it away with warm water.
Why is it good for my skin? Coffee and cocoa both contain caffeine so they brighten and tighten skin, but they also decrease puffiness. The natural enzymes in the yoghurt will help to prevent breakouts, whilst the oil and honey will moisturise skin and the acidity of the lemon juice will help to combat oiliness.
All of these face masks should be used within 1 day of making them. Remember to always use fresh ingredients – anything out of date will be no good for your skin. When using yoghurt, make sure not to use a flavoured yoghurt as that means plenty of additives – stick to plain, unflavoured, natural or Greek yoghurt and you'll get the most benefits. If you have allergies to any of the ingredients, sub that ingredient for something that you are not allergic to.