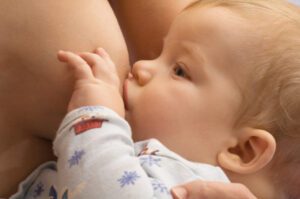 At Lose Baby Weight we are big believers in breastfeeding your baby for as long as you but for some new mums it can be difficult to master the technique and many mums find it difficult to breastfeed their babies for more than a few weeks – which is why Australia has currently a low rate of breastfeeding past the 3 months mark
So to celebrate the benefits of breastfeeding, August 1 marks the beginning of World Breastfeeding Week (WBW) , the lovely ladies at Whimsey have written us a blog on breastfeeding.
---
Celebrate Breastfeeding!
World Breastfeeding Week is an annual celebration and awareness campaign highlighting and giving recognition to the benefits of breastfeeding in communities across the globe. As the greatest outreach vehicle for the breastfeeding movement, WBW aims to bring breastfeeding to the forefront of community agendas so everyone can be part of the dialogue!
According to the World Health Organisation's website (www.who.int) "World Breastfeeding Week is celebrated every year from 1 to 7 August in more than 120 countries to encourage breastfeeding and improve the health of babies around the world. It commemorates the "Innocenti Declaration" made by World Health Organisation and UNICEF policymakers in August 1990 to protect, promote and support breastfeeding. WHO recommends exclusive breastfeeding until a baby is 6 months old, and continued breastfeeding with the addition of nutritious complementary foods for up to 2 years or beyond.
The tag line for World Breastfeeding Week 2011 is "Talk to Me! Breastfeeding – a 3D Experience". At first glance it seems a bit odd. So what does it mean?
Traditionally breastfeeding support has been seen to have 2 dimensions; time (from pre-pregnancy to baby weaning) and place (community based, in the home). Included now is a 3rd and vital dimension – communication. By communicating with each other, we share our knowledge and experience. With today's technology, we can communicate beyond our immediate circle and into the global community. So the theme for World Breastfeeding Week 2011 is to underline the importance of communication & discussion to protect, promote and support breastfeeding.
In previous generations, girls and young women learned about breastfeeding by observing mothers in their families and community as they were growing up. New mums relied on their natural instincts, and understanding of their babies cues and responses. These days breastfeeding is too often hidden away and is almost a complete mystery until the moment comes that it's your turn to nurse your own baby. Unsurprisingly new mums often have difficulties and become overwhelmed.
But what can we, as individual mums, do to promote and support breastfeeding within our community?
Women across the world experience similar challenges and joys in our breastfeeding journeys. By sharing our breastfeeding knowledge and experiences, we can help to educate and support each other. For mums who are experiencing difficulties, knowing that they are not alone subdues guilty feelings of failure or isolation.
The best supportive advice I was given as a new mum and struggling to overcome the mysteries of breastfeeding, was to relax and find a way that I was comfortable with. Throw away the "how-to" guide books and allow my body and my baby to establish our own breastfeeding style.
I realise now that this enabled us to take advantage of our natural responses, without being a slave to breastfeeding instructional rules and over analysing my breastfeeding technique. Once my baby was relaxed and feeding well and nursing was comfortable for me, we were on our way to a successful and enjoyable breastfeeding relationship.
By combating the social stigma of public breastfeeding and establishing a culture where mums can breastfeed their babies however they choose and whenever their baby desires, breastfeeding can once more become the norm. By discussing and demonstrating breastfeeding, and fostering dialogue in our families, social circles and wider community, breastfeeding can once more find its place as a natural instinct.
To celebrate World Breastfeeding Week 2011, Whimsey would like to offer Lose Baby Weight customers 15% off their entire range of nursing wear and breastfeeding products during August. Our products are designed so mums can feel comfortable and breastfeed with confidence
---