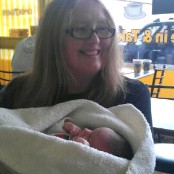 I come from some strong women. My ancestresses did amazing things. My blood runs with women who are travelers, adventurers, capable women who built houses and raised children whilst husbands worked away from home.
Women, who even in the face of loosing their unborn, were strong for their living children, instilling within them a 'get up and go' attitude which would carry on through to future generations.
My own mother has displayed great strength throughout my life.
When I was no more than 9, mum was diagnosed with 'Chemical Sensitivity', an almost unheard of illness in the 90's, due to long term over exposure to chemicals.
The result of my mum's injury was a reaction to solvent based products e.g. cleaning products, perfume, sprays, deodorants, etc. Her health deteriorated.
If we did a simple supermarket run, mum would end up bed ridden with extreme fatigue, breathing issues, and migraines. Dad and I started doing the shopping together, which I enjoyed as a father daughter activity (even when he did keep sneaking iced vovos into the trolley).
She couldn't sit through a Church service, a movie at the cinema, eating out was difficult, and she had to give up work.
No one had a clue what on earth it was. 20 years ago, there were no discussions on chemical related injuries. And if anyone did have the courage to come forward, court cases were dismissed and the sufferer was written off as being crazy.
I watched as people started drifting away, as others called her to ridicule her, and on even one occasion a person deliberately wore cologne to our home (perfumes etc were a strict no no for anyone visiting) just to try and prove to mum it was all in her head.
Through it all, she remained strong.
Mum had four children to raise, and my dad was not only working full time, but studying as well in the evenings. She had to remain firm and focus.
Hospital Visits
I hated it when she left to go to the special hospital, where she would be put in a 'gas chamber', where they would literally gas her with different chemicals to see which ones she would react to.
I felt horrible when she had to leave events because she started swelling up in front of our eyes, it felt incomplete when she had to stop coming to Church with us. (Though Dad was mistaken for a single struggling parent, and a mystery lady found his name in the Church directory and got through to mum. After asking just who Mum was, we think lady caller was suitably mortified and hung up the phone when Mum said she was his wife…we still wonder to this day who the woman was, and if she really thought she could handle the four of us as a step mother).
But through it all, Mum remained strong.
She pulled herself up by the proverbial bootstraps, and over the years things began to change. Slowly but surely, over the years, things improved. She became a cub leader, coached basketball teams, enrolled herself into TAFE and earned her travel diploma.
She had a personal faith that could not be broken. She started coming back to Church, sitting in the foyer during the service, and serving the tea and coffee to everyone at the end. She had troupes of kids coming through the house (my babysitting charges), put up our friends who needed a place to stay, and fed half the kids on the Mornington Peninsula on a weekly basis.

She fought her good fight. She fought against everything and everyone who said she had a screw loose. She came out victorious. My mum now works as a Travel consultant, and has gone on a few overseas trips, something no one dreamed would occur fifteen years ago.
She has raised four children, who are all completely different, but who know who they are and their place in the world. She and my father have remained married, for better or worse during times when a lot of marriages would disintegrate. She will never be 100%, she does have to watch her health and understand her triggers and limits, but she can now eat out at the pub with dad without needing three days to recover.
Sure my mum and I drive each other nuts; I can be overbearing and bossy, she can be s stress head ( favorite childhood sayings: "You are giving me the irrits*" and "My food is going down in lumps"), but we love each other and I am proud to come from someone who has displayed so much strength and determination.
I only hope I can be half the woman she is for the daughter I have.
*Pretty sure 'irrits' is a made up word, but it really does get the message of a mother's feelings of annoyance at her offspring across
This article was written by Beck Hendropurnomo
If you would like to write for the Lose Baby Weight site please click here for details
If you are ready to lose weight then the Lose Baby Weight plans offer a healthy and safe exercise and diet routine.

And don't forget to check out our current promotions and discounts page to see what specials we have on this week on our Healthy Mummy product range