Snacking is a normal part of a healthy eating plan and a good way to keep your blood sugar levels regulated when losing pregnancy weight.
Choosing the right snacks is the key to lasting weight loss. Avoid all processed snacks that come out of packets. Chips, lollies, packaged cakes and biscuits are typically high in calories, refined sugar and salt.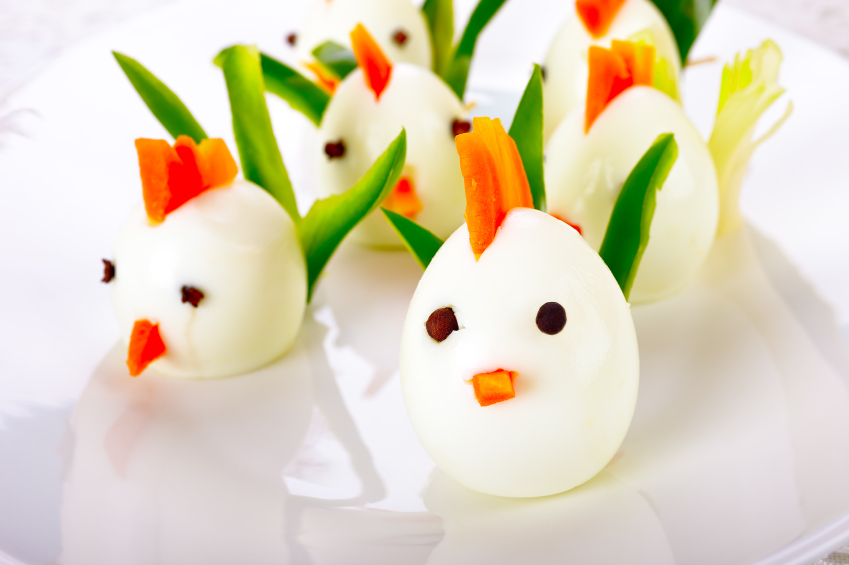 Making your own snacks ensures you can control the ingredients and stay aware of exactly what you are consuming.
Here are some kid-friendly, nutritious snack ideas you can prepare at home, that all the family will love.
Hard Boiled Egg Chicken Family
Calories per serve: 75
Eggs are packed with protein and are a favourite with children and adults alike. When they look as cute as this kids will love them even more! Just boil a few eggs, chop up some capsicum and carrot, and cut a few small slits into the egg to slide in the feathers and facial features. Whole peppercorns work well as the eyes, as do small bits of chopped up dates.
Calories per serve: 323
This all-time favourite Lose Baby Weight recipe is popular with kids and their parents. Many desserts can be laden with calorie-laden cream, ice cream, butter and processed sugar, but this sweet treat delivers some sweetness without an avalanche of calories. Serve as a dessert or afternoon treat.
Funny Face Rice Cakes
Calories per serve: Between 100-150 per rice cake, depending on toppings
Sometimes getting children to eat "healthy" foods is hard – this is where you need to get creative. Take a rice cake (or corn thin) and spread with Philadelphia Light Cream Cheese. Arrange a selection of vegetables on top to create a funny face. Half a cherry tomato makes a great nose, finely sliced carrot sticks serve as good eye brows and sultanas are good eyes. Even better, get your kids involved in the process and get them to make their own funny faces. Nutritious foods that are good to use include chopped up carrot, cucumber, cheese, cherry tomatoes, sultanas, dates and currants.
Calories per serve: 240
Having a movie night with the kids doesn't mean your weight loss goals have to be ruined by overeating of processed snacks. Make your own popcorn using this recipe and you'll be delivered a hit of salty & sweet deliciousness without consuming too many calories. Kids will love this recipe too!
Watermelon pops
Calories per serve: 45
This dead-simple trick makes watermelon even more tantalising to kids, and is especially good for serving at kids birthday parties. Simply slice some seedless watermelon into large, triangle-shaped pieces, including the rind. Slice a small cut into rind, and insert a short paddle pop stick into the end – creating a 'watermelon pop'. A fresh and fun take on eating watermelon!
Need to stock up on Healthy Mummy Smoothies? Then see our shop here
And join our 28 Day Weight Loss Challenges here
If you want to save money on household shopping bills and getting healthy then get our FREE guide to how you can save up to $150 in our FREE Free Budget Guide by entering your details below