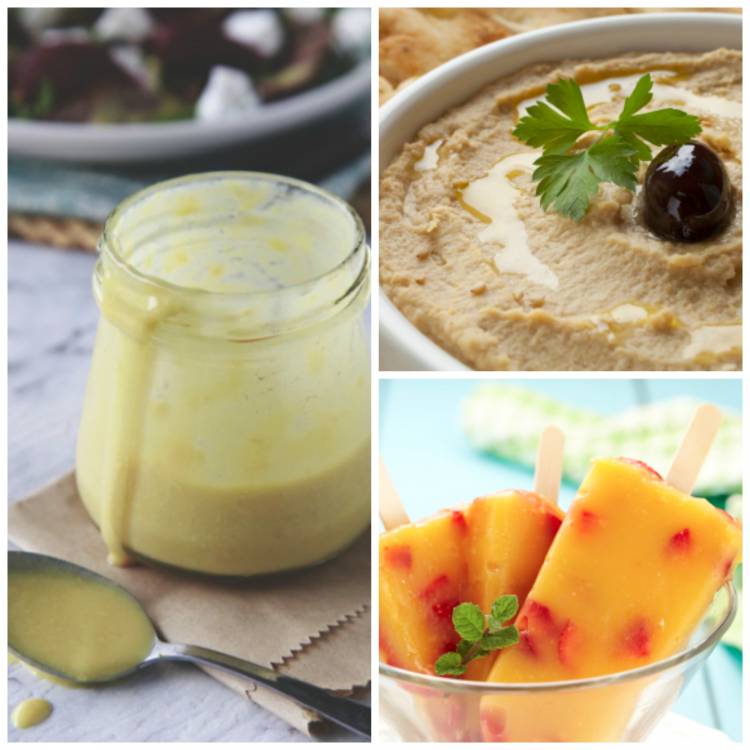 Good news – there is a way to enjoy healthy eating while you lose post baby weight that doesn't break the bank.
By incorporating a little bit of extra home cooking into your week, you can prepare some delicious healthy eating foods and snacks that you used to buy from the supermarket.
When you are trying to lose post baby weight, starvation diets simply do not work.
Here at Lose Baby Weight we recommend a balanced approach to healthy eating – which means nothing is off limits.
So if you love nut butters, dip, pesto, pizza or tasty dressings – read on to find out how you can make your own healthy versions easily at home without any unusual or hard to find ingredients.
Nut Butters
Check out the health food aisle at your local supermarket and you'll see tasty jars of natural peanut butter, cashew butter, ABC butter (which is almonds, Brazil nuts and cashews) – and possibly even more delicious options. But these healthy nut spreads don't come cheap.
The solution? Grab yourself a large bag of nuts from the supermarket, deli, fruit market or healthy food store and make your own at home.
You will need a high powered food processor for this. Simply place around 2 cups of nuts into the bowl and turn it on.
At first the nuts will turn to a dusty crumb, but just leave the motor running for around 10-15 minutes, scraping the sides of the bowl with a spatula several times.
Eventually you will have a smooth and creamy spread just begging to be smeared onto a rice cake or celery stick.
The best part is that you can then experiment with different nut combinations – or even try roasting your nuts first in the oven for around 10 minutes for a different flavour option.
Dip
When you think of healthy eating, dip probably isn't the first thing that comes to mind. But by using your own healthy ingredients, you can make a delicious dip or spread that can be part of your weight loss diet.
Many commercial dips contain excessive amounts of cream, mayo, sugar, salt, oil or simply not much of the actual vegetable that it has on the packet.
All you need to do is grab yourself a blender or food processor and toss in a few key ingredients to be in dip heaven in no time. One of the simplest options is a healthy take on hummus – place 1 can of chickpeas, 2 tsp garlic, ½ cup Greek yoghurt, and a squeeze of fresh lemon juice into the blender. Mix until combined and then season to taste.
So much healthier and a lot cheaper than buying a commercial brand of dip every week.
Pesto
This is another gourmet style ingredient that can be used to add flavour to chicken, pasta, on a sandwich, as a dip or as a topping for a baked potato.
Instead of forking out your hard earned cash for pesto, why not make your own? This will really only be more economical if you are growing your own herbs at home (even better if your neighbour has a glut of herbs to share).
Simply grab yourself two large handfuls of any leafy herb that you like (or even a combination works well) such as basil, chives, parsley, oregano, mint and thyme.
Place this into your food processor with 4 tbsp of grated Parmesan, salt and pepper, a garlic clove, ½ cup of nuts (think walnuts, cashews, almonds – or a combo) and around 6 tbsp olive oil (you may need more or less depending on the consistency you like).
Process on high speed until combined, then store in an air tight jar.
Ice Blocks
You may have already stopped buying these if you are on a healthy eating plan but we are bringing them back for summer! Grab yourself a set of plastic ice block moulds from the supermarket, and let your imagination guide you.
You can use pureed fruit –  just throw fruit in the blender such as mango, rockmelon, kiwi fruit, passionfruit, pineapple, berries; and feel free to add some Greek yoghurt if you fancy a creamy ice block.
Pour into the moulds and freeze until firm.
Another great option? Make a double batch of your Healthy Mummy Smoothie and use the smoothie as your ice block filler. Delicious and super nutritious too.
Salad Dressing
As summer heats up, you'll be wanting to put salads on the menu more and more.
Instead of buying commercial dressings which can be expensive as well as less than nutritious (hello excess fats, salt and sugar) – make your own from scratch in no time at all.
We've got some tips here for what makes for a delicious dressing.
At a bare minimum, drizzle over some olive oil and lemon juice for a no-fuss dressing for a green salad.
Or why not try our:
By ensuring you enjoy a healthy eating diet you can begin to lose post baby weight in a safe and healthy way.
 
GET YOUR 10% DISCOUNT
If you are ready to lose weight then the Lose Baby Weight plans offer a healthy and safe exercise and diet routine and you can get a 10% discount by using code LOYALTY at the checkout
PLUS our BEST SELLING 28 Day Diet & Exercise Plan is available as a 200pg Printed Book and you can get your copy here 
Plus our NEW CALORIE BIBLE is now available – get your copy today! Only $19.95 and a must have in your handbag!
Click HERE to see our shop