My story started when I fell pregnant with my first son. Everything was going well until at 28 weeks I started bleeding.
The doctors suspected that I was experiencing placental abruption. I had to stop exercising and take it easy.
I started spending a lot of time relaxing and eating like I was eating for 2. I gained about 10kg throughout the pregnancy.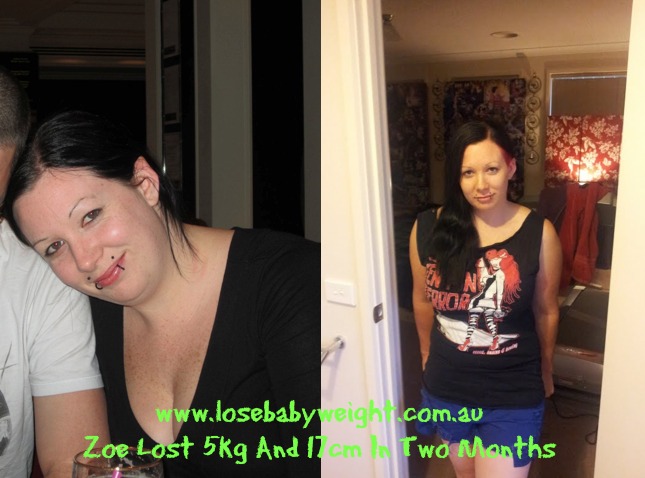 At 34 weeks I gave birth and my son spent 3 weeks in the premmie ward. I lived on a couch eating cafeteria food where I gained another 5kg.
One year later I became pregnant with my second son, where again I had medical problems and had to stop my exercise. I got up to 95kg during the pregnancy.
After I had my second child I came down to 85kg and that's where I have stayed. I tried EVERYTHING to get my weight down.
I barely let anybody take photos of me at that time, which is weird because I used to do some alternative modelling.
When my son was 1 my husband joined the army and lost 30kg, which left me feeling even worse about myself.
Fast forward another year and that's when I decided enough is enough.
I came across the Lose Baby Weight site. I looked through all the before and after pictures and read through all the stories.
I bought my first healthy mummy smoothies in January and also bought myself a treadmill.
So far I'm feeling great and my skin looks amazing.
I have lost 5kg
Lost 7cm from my bust
4cm from my waist
4cm from my hips
2cm from my thighs
I'm doing 45 minutes each night on my treadmill and pole dancing once a week to get my strength back.
I'm having 2 Healthy Mummy Smoothies a day and making my meals from the Lose Baby Weight recipes pages. Even my family love the food.
I have kept myself motivated by reading the success stories everyday. I want to be happy and healthy for my family, and win my body back.
GET YOUR 10% DISCOUNT
If you are ready to lose weight then the Lose Baby Weight plans offer a healthy and safe exercise and diet routine and you can get a 10% discount by using code LOYALTY at the checkout.
Click HERE to see our shop