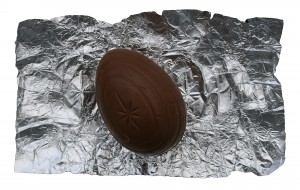 Easter has hopped its way onto the calendar. If you are looking for a bit of a guide to decoding the calories of the popular foods this treat-filled weekend, read on.
For even more information from our nutritionist, you might also be interested to read our tips for a healthy Easter over here. 
Hot Cross Buns
These are a traditional Easter treat. Depending on the size they are around 200 calories each (based on an 80g bun).
Tip 1: try to go for wholemeal buns if you can find them. They tend to have less preservatives and more fibre than the white flour version. Many bakeries have wholemeal buns these days.
Tip 2: to reduce your calorie intake it's best to avoid those that are filled with chocolate chips
Tip 3: you can also reduce your calorie intake by eating them straight up, instead of covered with lashings of butter.
Easter Eggs and Bunnies
Size matters here. Some of the bigger bunnies can pack a huge calorie punch, with a 200g Elegant Rabbit clocking in at a whopping 1,028 cal. And even ten solid milk chocolate mini eggs would have you consuming upwards of 440 cals.
Tip 1: go for dark chocolate if possible. Although the calories in milk chocolate and dark chocolate are pretty similar, dark chocolate contains significantly less sugar. Good news if you are trying to lose weight.
Tip 2: limit yourself to a small amount of good quality chocolate, rather than over indulging in lower quality eggs which tend to have more sugar and preservatives.
Tip 3: for obvious reasons, try to avoid those filled with chocolate, cream, caramel or more mini chocolates.
Here are some of the most popular treats for the Easter holidays, and the amount of time walking at a moderate pace that it would take to burn them off:
One Baker's Delight hot cross bun = 57 minutes
100g Lindt Milk Chocolate rabbit = 2 hours and 23 minutes
100g Lindt dark chocolate rabbit = 2 hours and 11 minutes
39g Cadbury Creme Egg = 42 minutes
17g Cadbury hollow egg = 22 minutes
200g Red Tulip Elegant Rabbit egg = 4 hours and 38 minutes
Luckily Easter only comes once a year, so remember that even if you do indulge you have 364 other days to be good.

GET YOUR 10% DISCOUNT
If you are ready to lose weight then the Lose Baby Weight plans offer a healthy and safe exercise and diet routine and you can get a 10% discount by using code LOYALTY at the checkout.
Click HERE to see our shop