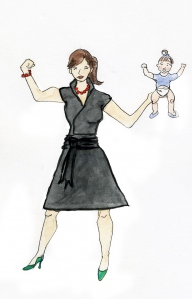 As some extra inspiration for all the mums out there I thought I would start sharing some of the results mums on the Lose Baby Weight plans send through for the weight loss mum of the month competition (to enter you just need to be on our plans and send an email each month with how much weight/inches you have lost) – and below are the top contenders for this month's $100 Coles Myer voucher – I just need to pick the winner now which is a tough job as there are some GREAT results!!  And in more inspirational news since September mums on our plans have lost over 3,000 Kilos!!!!  WOW!!

Emma from SA
" I am so glad I found you!  I had tried for 4 months to lose my weight and failed each time – so when I found your site I was a bit skeptical about the shakes but thought I would give them a go and it was the best thing I have done!  They are delicious and I love how you eat fruit to them to make them thicker – I also LOVE the choc bars!!!.  I have been on your plans for 8 weeks now and have lost 10kg and my milk supply has not been effected at all and I feel fantastic!  I got into my pre preg jeans yesterday – they are still a bit tight but 3 more kg and they will fit perfectly!!  Thank you for all your support and daily tips – I find them really helpful."

Nicole from QLD
"Well just reporting in for the month of March.  In the past four weeks I have lost another 3.4kg (another 800g this morning) and even better is that in the four weeks I have lost 12 cm from my waist, 5cm from my hips, 5.5cm from my thighs, 4 cm from my arms and 4.5 cm from my bust.  As if it can't get any better, having lived 95% of my adult life as a size 14 to 16 I have just bought myself a new pair of jeans and had to get a size 10.  I've started dragging out my skinny clothes that I used to wear after a lost a lot of weight after baby no 2.  As a mum of four daughters (under the age of 6) I am feeling great and I love it now that people say…."I can't believe you have 4 kids…you look great!".  I am quite tall so my first goal is to reach 70kg which is just 3.6kg away.  I hope to do this before I fly to Singapore in 4 weeks.  Once I hit this goal I want to reach 68kg.  Fingers crossed.
Thanks for all your support.
Alana from WA
"Today is three weeks since i started your program and so far ive lost 3.3kgs!  I'm so happy, ive always been quite skinny (48kgs before i fell pregnant with my first) but after putting on 27kgs while pregnant, not losing it all, then another 18kgs with my second i had no idea how i was going to lose it.  losing weight was something id never had to try and do.
Your program is so easy, filling and yum I'm having no problems sticking to it and am excited about my progress. i find being upset about my weight a bit embarassing because i know how lucky i am to have two beautiful boys but the relief of knowing weight loss can be so easy has made me so happy!
thanks a lot"

Karen from NSW
"just letting you know have lost 6kgs since starting 3 weeks ago – im VERY happy with the results  i can now take off my jeans without having to undo them yay ! and as i have so much weight to lose  currently 133kg want to get to 80 it is really encouraging me to keep going  and the daily tips really help thanks soo much i wish you had been around 5 babies ago so i never got to this  weight to start with  but 6 kids in 6 years so i just kept putting it on each baby  great to see the scales finally going down thankyou xo"

Bev from  NSW
"Just an update on how my weight loss is going so far… I started at the beginning of March weighing in at 75.9kg & weighed in this morning at 70.3kg 🙂 Was really hoping to make it under the 70kg mark this week but am still pretty impressed with my efforts so far 🙂 Have also lost 7cm each from my hips & waist.. Getting closer to fitting into my old jeans 🙂 The last two weeks have been the hardest.. Both Lucas & I have both been sick & the weather has made me want to stay home & snuggle under the doona 🙂 Netball season started on the weekend so that's another chunk of exercise I wasn't doing before.. Am glad I started the program before the season started.. Felt alot fitter & healthier & was able to play the whole game without feeling like I was going to die 🙂 Lucas will be starting swimming lessons in the next few weeks so that's something else we can look forward to 🙂 Am learning alot from the information you have been sending thru & feeling inspired by your own weight loss journey… Thanks so much :)"

Melissa  from Vic
"It's been close to a month since I've been on the program and I feel great! The weight is slowly but consistency shifting, I have so much energy and feel great inside and out. I have found a new love of apples with my favourite guilt free snack being a cut up apple with a little peanut butter (a snack suggest in the pink bible). Yum! I'm making better food choices now and feel more satisfied in what I eat. I love doing the plank! It's really working the core and I can feel those tummy muscles getting a good workout. Best part of all my baby's skin is looking fantastic and he seems to be much more settled so that's been the main thing keeping me on track. My Magic Bullet blender is no longer in the cupboard collecting dust and is sitting on the bench making some fabulous berry smoothies. I have since ordered more products as I adore the shake and to help me with my nutritional needs and weightloss goals. I strongly recommend the program to all mums out there!"