Hey all!
I thought I would send through an update of my progress on the
Lose Baby Weight plans
since losing 25kg on the
weight loss plans
.
I was a
Motivating Mummy
in February and March this year and at the end of March I got really ill with a chest infection and I couldn't get out for much exercise. It was driving me insane!
So I did what I thought was right; what the weight loss industry in general tells us to do, I restricted my calories. I cut down so much that I was barely eating 1000-1200 calories in a day and (once I recovered from the chest infection) I would still burn 250-300 cals when I did exercise.
My weight hovered up and down for a bit but basically stayed the same. My hubby decided to take away my scales from me for the month of April as I was found to be obsessing over the numbers and weighing in every day, sometimes twice or more. I was in a really unhealthy frustrating place.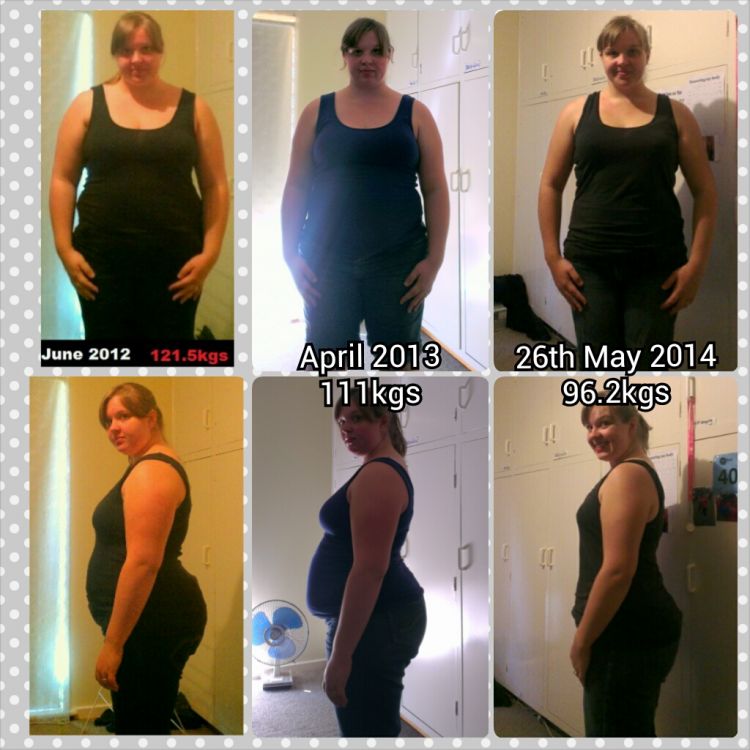 Over Easter (also my birthday weekend) we went for a hike up Adelaide's tallest mountain (Mt Lofty) and I was so proud of myself but I found myself to be sooo hungry. I ended up binging and binging until I felt sick. By the end of April I had gained back 4kgs (those chocolate bunnies were evil!) and was so unhappy with myself, so again I cut back and restricted more.
I was finding it so hard to only eat 3 small main meals a day and I still wasn't losing the weight! I remember having so many conversations with my husband about how I'm not sure if I can cut back any more food without dying and I didn't know if it was possible for me to lose any more weight after all and I was about to give up altogether and give in.
But then everything changed…
I re-did my BMR on the
lose baby weight
page and after chatting to the girls on the private group and talking to Rhian, I discovered that I needed 2267cals to just maintain my weight and meet my daily energy needs. So after using the calculator, I took 15% off my total energy needs and got 1926cals and my BMR is 1778. Based on this I found I had to INCREASE my calorie intake from 1200(ish) and not reduce it further!! No more starvation!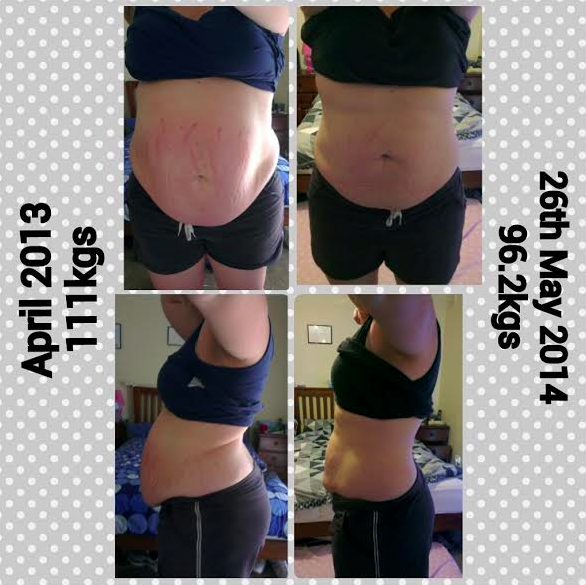 So I downloaded the Myfitnesspal app on my phone so I could track it a little easier, entered 1850cals per day (seemed like a nice more round number between my 15% off figure and BMR) and I have been following this all week.
At first it felt weird to be eating so much after restricting myself for so long. I felt naughty. I experimented with a few different
healthy eating diet plan
recipes to build up my calories- My favourite treat is the
4 ingredient chocolate cake f
rom the baking section on the Lose Baby Weight website.
Here are my results for just ONE WEEK of eating MORE (good) food!!!
Bust 99 unchanged
Waist 83- 82 -1cm
Belly 98- 97.5 -0.5cm
Hips 113- 111.5 -1.5cms
Thigh 65- 64.5 -0.5cms
Weight 98.6kgs – 96.2kgs
A HUGE LOSS OF 2.4KGS IN ONE WEEK!!!! And 25kg in total!
I am so excited. I don't feel hungry any more. I still get random cravings for chocolate and bad salty foods but its nowhere near as often as whenever I do get those cravings I am either already full from my healthy snacks during the day or I can go and bake a healthy chocolate cake or eat some air popped popcorn instead which is so much better for me (and the kids and hubby love it too!)
So ladies, stop restricting and start enjoying your food!!! Check out the Lose Baby Weight BMR calculator and work out how much you need (check out the other great lose baby weight weight loss tools available too, to help you reach your goals). You will probably be very surprised at how often you are able to enjoy a snack and that losing weight isn't all about missing out on good food!
I cant wait for next week, my next goal- to get under 90kgs before my daughter's birthday at the beginning of August! I have also set myself a huge challenge of beginning to train for a 12km City to Bay run in September. I ran my first 7.2km fun run on Mothers Day this year and beat a (home) pb on event day and I absolutely loved the atmosphere of running with loads of other people. Hopefully this next race will also be a great celebration of my fitness level growing, my weight loss and I can prove to myself that I AM a strong mummy who can do anything I put my mind to.
Happy healthy living!
Sarah Breuker
GET YOUR 10% DISCOUNT
If you are ready to lose weight then the Lose Baby Weight plans offer a healthy and safe exercise and diet routine and you can get a 10% discount by using code LOYALTY at the checkout
PLUS our BEST SELLING 28 Day Diet & Exercise Plan is available as a 200pg Printed Book and you can get your copy here 
Plus our NEW CALORIE BIBLE is now available – get your copy today! Only $19.95 and a must have in your handbag!
Click HERE to see our shop