Here is are some great and simple healthy eating summer weight loss recipes for you to try
Grilled Veggies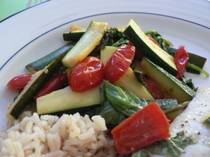 This has about 45 calories per serving.  This preparation takes about 10 minutes from start to finish
Ingredients: A pint of Small cherry or grape tomatoes, two cloves of garlic, 1 tablespoon of vegetable or olive oil. 2 zucchini or yellow squash cut into sticks two and a half cups of spinach, preferably baby and a pinch of salt and black pepper.
To cook-
Put the oil in a large skillet or non stick pan on medium fire. When the oil has warmed toss in the garlic until is starts to brown slightly. Put the fire on high and add your squash or zucchini. Let that cook for 4 minutes, then add tomatoes, stir and immediately add the spinach.  Add salt and pepper then cover and put on medium heat for 3 minutes.  Turn off fire, stir and serve.
Mango & Prawn Summer Salad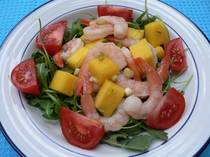 If you need a health quick lunch this no cook Mango and prawn summer salad will do wonders. This preparation takes about 20 minutes from start to finish. This has 140 calories per serving.
Ingredients: 3/4 pound cooked prawn, one fourth cup chopped green onions, one large mango cubed, 2 tablespoons of lime juice, 3 tablespoons of water a tablespoon of brown sugar. Four tomatoes cut in wedges a dash of soy sauce and 5 cups of arugula.
To Prepare-
Put the onions, cooked prawn and cubed mango in a bowl. In a separate bowl put the soy sauce, brown sugar, and lime juice, whip and them pour on the prawn mixture, add tomatoes and refrigerate for 10 minutes.  Take your lettuce and place it in four separate bowls, divide the mixture and serve.
Bean and Beef Burger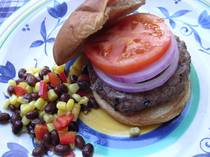 Here is a great recipe for burger lovers that only has 145 calories per serving. This preparation takes about 25 minutes from start to finish.
Ingredients; 2 tablespoon of chopped cilantro, three quarters of  a pound of lean ground beef, or ground chicken, one egg white, 1 table spoon of cumin, one fourth cup of minced red onions, one fourth cup of tomato sauce and one cup of reduced salt black beans, properly strained.
To Prepare-
Put the beans in a bowl and smash them into a paste.  Then add the onion and pepper, and cumin. To that add the meat, egg and tomato sauce; mix well with your fingers. Wash hands and make 4 patties out of the mixture. Grill on each side for 3-5 minutes until done. Serve on whole grain bread.