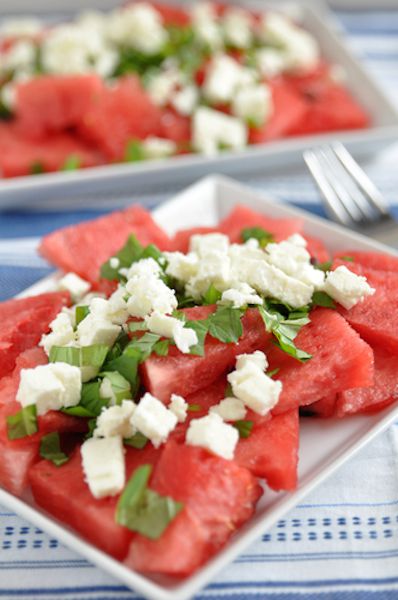 Salad doesn't get much more festive looking than this – a delicious red and green salad made from seasonal fruit, fresh herbs and creamy cheese.
The combination of the sweet melon and the salty cheese, plus the sweet yet savoury flavours of the basil make for a killer combo that pairs well with grilled meats and seafood.
When you get a hold of great produce, you don't need to do too much to it to make it taste fabulous.
And when you are trying to lose weight, that's a good thing because it means you don't need to add commercial dressings or too much oil for flavour.
Satisfy your sweet tooth with this salad at your next outdoor BBQ – it's sure to be a hit.
Feeling a bit retro? Dig out the old melon baller and serve the watermelon in cute little balls.
Optional extras and alternatives:
Mix it up with some rockmelon too
Add some crushed pistachios
Throw in some sliced black olives
Finely slice ½ a red onion to add to the mix
Use mint instead of basil
Sprinkle with peppery rocket
Swap the lemon for an orange
Add chunks of avocado for extra creaminess
Ingredients:
2kg seedless peeled watermelon, cut into chunks
100g low fat feta
1 cup of fresh basil leaves, torn
Juice of ½ a lemon
2 tbsp olive oil
Cracked black pepper and salt, to taste
Method:
Arrange the melon chunks on a large platter.
Sprinkle with the crumbled feta and basil leaves.
Pour over the lemon juice, and then the oil.
Lightly season with salt and pepper to taste.
Serves: 6 as a side. Calories per serve: 175.

GET YOUR 10% DISCOUNT
If you are ready to lose weight then the Lose Baby Weight plans offer a healthy and safe exercise and diet routine and you can get a 10% discount by using code LOYALTY at the checkout
PLUS our BEST SELLING 28 Day Diet & Exercise Plan is available as a 200pg Printed Book and you can get your copy here 
Plus our NEW CALORIE BIBLE is now available – get your copy today! Only $19.95 and a must have in your handbag!
Click HERE to see our shop