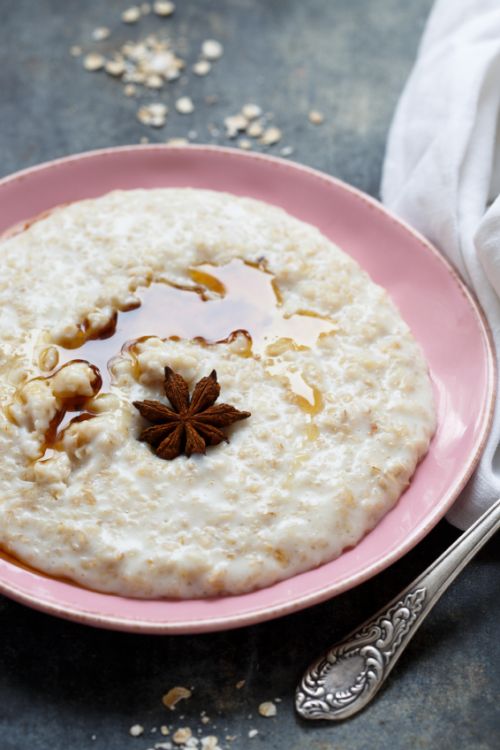 Starting the day with a warming, filling, low-GI breakfast is a good way to ensure your energy levels stay strong all day while trying to lose pregnancy weight.
Home made porridge and oats are good options to include in your healthy eating plan, particularly in winter when the need for a filling, hot breakfast is high.
This recipe for Warming Chai Spiced Porridge is high in fibre and beta-glucan which is known to reduce cholesterol levels.
You can customise this simple recipe by using your favourite dairy or non dairy milk, adding your own fruit toppings like chopped banana, kiwifruit or raspberries, or adding a dollop of natural, Greek yoghurt or chopped, raw nuts.

Ingredients:
1 cup of oats
Half a teaspoon cinnamon
3 cups of unsweetened almond milk
Quarter of a teaspoon nutmeg
Quarter of a teaspoon ground ginger
Quarter of a teaspoon of ground cloves
2 star anise stars (for presentation)
2 tablespoons honey
Optional Extras:
Top with fresh fruit like a handful of fresh blueberries or chopped strawberries
Add some chopped walnuts or almonds to the topping
Use maple syrup instead of honey
Use skim milk instead of almond milk
Method:
Heat the oats, almond milk, cinnamon, nutmeg, ground ginger and ground cloves in a saucepan over medium heat.
Bring to the boil, then reduce the heat a little and simmer on low-medium heat while stirring for 3-4 minutes.
Remove from the heat and spoon into two bowls.
Top each with a tablespoon of honey and a star anise for presentation, and serve hot.
Serves: 2. Calories per serve: 350