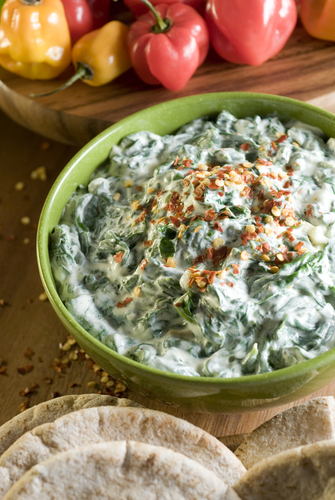 Served warm (or eaten cold the next day is good too), this healthy eating dip is sure to become a new favourite.
Dip doesn't need to be off limits when you are trying to lose weight after pregnancy.
You can simply make your own healthy versions that don't use loads of oil, cream, mayonnaise or sugar.
Try serving with:
toasted wholemeal pita breads
strips of red capsicum
carrot or celery sticks
cherry tomatoes
baby corn
steamed asparagus spears
Ingredients:
4 cups of baby spinach
200g light cream cheese
½ cup Greek yoghurt
4 tbsp Parmesan cheese, grated
300g artichokes, tinned or fresh, drained
1 tsp minced garlic
Salt and pepper to taste
1 tsp dried chilli (optional) to garnish
Method:
Preheat your oven to 180C and spray a small ovenproof dish with olive oil.
Place the spinach in the microwave with ¼ cup water and steam for 2 minutes until wilted.
Drain, and squeeze the spinach to remove any excess liquid.
Place the spinach, cream cheese, yoghurt, Parmesan, artichokes and garlic into a food processor and blend until combined.
Season to taste and then pour into the dish.
Bake for 20 to 25 minutes. Garnish with the dried chilli, if using.
Serves: 6. Calories per serve: 146.

GET YOUR 10% DISCOUNT
If you are ready to lose weight then the Lose Baby Weight plans offer a healthy and safe exercise and diet routine and you can get a 10% discount by using code LOYALTY at the checkout
PLUS our BEST SELLING 28 Day Diet & Exercise Plan is available as a 200pg Printed Book and you can get your copy here 
Plus our NEW CALORIE BIBLE is now available – get your copy today! Only $19.95 and a must have in your handbag!
Click HERE to see our shop