A big thank you to Vivien Paton who has sent in her delicious Healthy Mummy Smoothie recipe as part of our Smoothie Of The Week competition.
Here's my entry for smoothie of the week.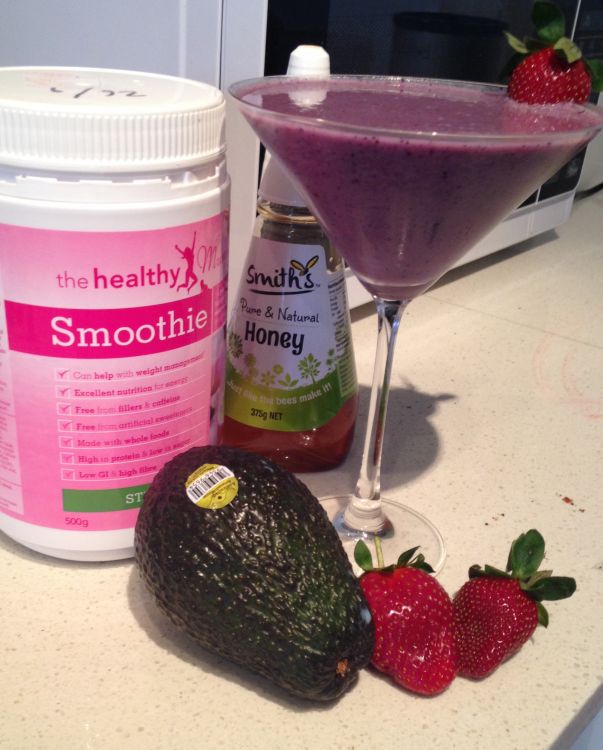 1 tsp honey
1 tbsp avocado
2 strawberries
1 handful frozen blueberries
300ml skim milk
2-3 ice cubes
Blend for 20 seconds and enjoy.
We love to share as many gorgeous smoothie pictures and smoothie recipes as possible to inspire everyone to try new healthy mummy smoothie recipes and to be as healthy as possible.
Why have a smoothie for breakfast?
Our research shows that over 50% of mums skip breakfast due to being too tired to make it or not having enough time to make it.
Needless to say this reeks havoc with the metabolism, health and weight loss of mums all over the country and if mums found just 2 minutes to make a smoothie for breakfast they would feel healthier, have more energy and find weight loss a lot easier!
And why are our smoothies so different? Our healthy mummy smoothies are very different to any other traditional 'shake' and you can read all about why they are different here 
Need to stock up on Healthy Mummy Smoothies? Then see our shop here
And join our 28 Day Weight Loss Challenges here