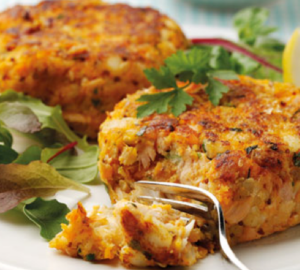 Fish cakes are ideal to make on your healthy eating plan or when you are trying to lose pregnancy weight as they are quick, easy, healthy and perfect for the whole family.
They can also be made from lots of left over ingredients so are really economical too.
The recipe below is a firm favourite in my house and I make them when I am too tired to think of what else to cook as they are so easy!
Ingredients
1 x chopped up and cooked large sweet potato
Half a tin of chickpeas
Half a cup of chopped up spring onions
Half a cup of chopped fresh corriander
1 cup of frozen peas (cook them in the microwave or in some boiling water)
1 large tin of tuna in water – not oil
Sea salt & cracked black pepper
For the tzatziki side sauce/dip
4 x tbsp of greek yoghurt
1 x crushed garlic clove – or use a squirt of ready made garlic paste
1 x tbsp of mint herbs – the garden gourmet range is great – or use fresh mint
The juice of half a lemon
Directions
Place the potato, chickpeas, peas, corriander, tuna, salt, pepper and spring onions into a large bowl and mash them all together – use a little milk if you need some moisture to bind together.  Then shape into 4 large fish cake patties and lightly fry on both sides for a few minutes.
The for tzatziki, add all ingredients into a bowl and mix well.
Serve with a large salad
Serves 2. Calories per serve 360
If you are ready to lose weight then the Lose Baby Weight plans offer a healthy and safe exercise and diet routine.

And don't forget to check out our current promotions and discounts page to see what specials we have on this week on our Healthy Mummy product range