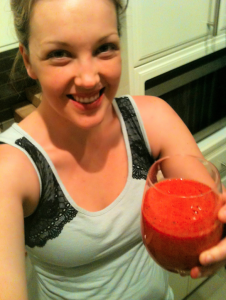 Hello there amazing lose baby weight team,
Firstly I love you guys, you have made managing my post baby weight loss feel so achievable without having to worry about my milk supply.
It's taken me a while to get in the right head space but I've really adapted in the last couple of weeks and can't wait to get into those pre-pregnancy jeans (only about 7kg to go!!)
I recently discovered the amazing health benefits of guava which include being a brilliant source of folic acid, fibre and vitamin C, so I decided to create a delicious summer inspired smoothie. Here is my recipe, I hope you love it as much as I do!!
Tropical Escape Smoothie
1/2 guava (I used tinned and scoop out the seeds)
1 mango cheek (I also used tinned in juice)
1 passionfruit
1 handful of frozen raspberries
2 scoops of vanilla healthy mummy smoothie mix
200ml of rice milk
a squeeze of lime and a few ice cubes
Blend, close your eyes and escape to the tropics : )
Jess Stewart xx