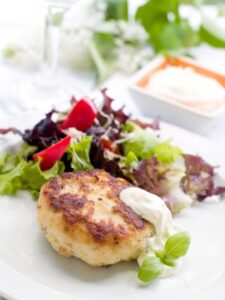 There's nothing better than sinking your teeth into a juicy chicken burger, hot off the BBQ on a warm summer's day. The problem is, the burgers we're usually serving up aren't exactly the best option for a healthy eating or weight loss plan.
Shop bought chicken burger patties often use a mish mash of meats, along with various additives, to add to the shelf (or refrigerator) life of the product.
The extra fat content of this meat won't do our diet any favours, and that's before you consider the 'extra's' we usually plonk on top of the patty!
Tomato or BBQ sauce, mayonnaise, slices of plastic cheese, the enormous white bread bun. Each of these layers is typically high in salt, sugar and simple carbohydrates (15mL of tomato sauce can contain up to 150mg of sodium!) which act as sneaky saboteurs, removing the majority of nutrition from the burger, and leaving behind a whole heap of calories.
The good news? You don't need to ban the burger! Chicken burgers can be a delicious addition to your weight loss plan as well a healthy, family friendly meal option.  It all comes down to the way you make the patty and the extras you choose as toppings.
This easy recipe uses lean chicken breast mince, parmesan cheese and whole grain bread rolls. It also rather unconventionally removes the top of the burger bun, replacing it with lots of salad and a yoghurt based dressing for a waistline friendly recipe, with a side of yumminess.
Enjoy!
Ingredients
500 g lean chicken breast mince
1/4 cup grated carrot
1/4 cup grated zucchini
1/3 cup parmesan cheese
2 cloves of garlic, crushed
2 cups baby spinach leaves, washed and drained
1/2 can sliced beetroot
1 egg, lightly whisked
Juice and rind of half a small lemon
4 whole grain or multigrain bread rolls, split in half and lightly toasted
3 tbsp. Greek yoghurt
1.5 teaspoons fresh mint, finely chopped
1 tbsp olive oil
Directions
Combine mince, garlic, lemon rind and juice, carrot, zucchini, egg and parmesan in a large bowl using your hands.
Form patties, approximately the size of your palm, with the batter and place on a clean chopping board or dinner plate.
Place patties into the fridge to chill and firm for 10-15 minutes.
Spoon Greek yoghurt into a small bowl, add finely chopped mint and set aside.
Heat olive oil over medium heat in a large frypan. Remove patties from the fridge and lightly pan fry till cooked through and golden.
When cooked, remove from the pan and place on absorbent kitchen paper to cool.
Take bottom of the burger bun, add a handful of baby spinach leaves and two slices of beetroot. Top with a burger patty and a dollop of the yoghurt mix.
Yum!
Serves 4 – Calories per burger – 420
If you are ready to lose weight then the Lose Baby Weight plans offer a healthy and safe exercise and diet routine that are safe in breastfeeding and can help support your milk supply
And don't forget to check out our current promotions and discounts page to see what specials we have on this week on our Healthy Mummy product range