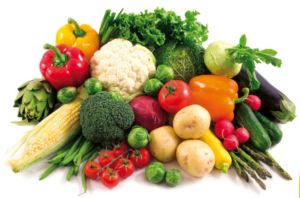 We all know that vegetables are good for us and good for our healthy eating and pregnancy weight loss plans – they are low in calories, low in fat and filling. They can really make a meal, bulking out your food so that it fills you up more for fewer calories.
But veggies are not just low in calories and fat – many of them are packed with fibre, which is indigestible, meaning that it stays in your tummy filling you up, but then is eliminated through the body, so it also helps to keep you regular.
Guidelines recommend that you get between 25g-34g of fibre per day depending on if you are pregnant or not – and you can read more on fibre here. So try including some of the veggies listed below to up your fibre intake.
High fibre vegetables
1.  Avocado – Avocado pears are a fantastic source of all sorts of important vitamins and nutrients. They are also full of omega-3 fatty acids, which are essential for good health. But what might surprise you is that avocados are also full of fibre – they contain 5.2g of fibre per avocado, which will get you well on your way to your total. Put them into salads or chop them into guacamole.
2.  Sprouts – Sprouts are not everyone's favourite vegetable – but they are very good for you. They contain plenty of vitamins, and they are also full of fibre – they contain 4.1g of fibre per 100g. You can serve them steamed with roast meat, or sautéed with bacon, or even served warm in a salad.
3.  Parsnips – Parsnips are one of my favourite vegetables – they are sweet yet savoury at the same time and are particularly delicious when roasted with a little bit of runny honey. They are perfect with roasted meats. They are full of fibre too, and they are really filling – they contain 4.6g of fibre per 100g.
4.  Peas – Peas contain much more fibre than you might think for such a small veggie – 4.7g fibre per 100g. Simmer them gently and serve them in salads, with stews, with your favourite roast meat or pureed with some mint.
5.  Jacket Potato – Jacket potatoes are an incredibly versatile veggie – you can top them with pretty much anything from tuna salad to beef chilli. They are healthy too – low in calories and fat, and packed with nutrients if you eat the potato skin too. They contain 2.4g of fibre per 200g, which is the size of an average jacket potato.
6. Celeriac – Celeriac is the root of the celery plant. It looks a little bit rough and gnarly, but once you peel the skin and cook it, you'll be left with a vegetable that has a similar texture to potato, but with a light, savoury flavour. Celeriac makes an excellent alternative to potato if you are following a low carbohydrate diet. It contains 3.7g of fibre per 100g.
7. Sweet Potato – Sweet potato is one of my favourite vegetables – packed with flavour, it can be used in both sweet and savoury dishes making it extremely versatile. Roast it into chips with paprika for a savoury snack or cinnamon and a small sprinkle of brown sugar for a sweet snack. Sweet potato contains 5.4g of fibre per 100g.
8. Broccoli – Broccoli is a fantastic veggie as it can be served raw with a dip, or served steamed, simmered or sautéed with a variety of meat dishes. It's especially good with an oil and lemon juice dressing, garnished with some shavings of parmesan cheese. It's packed with vitamins and nutrients and contains lots of fibre too – 2.6g per 100g.
9.  Kale – Kale is a great veggie – it is absolutely packed with iron, it's full of flavour, and it's good with all sorts of dishes. You can stir it into rice and couscous dishes, but you can also serve it as a side dish. It contains 3.g1 of fibre per 100g – plenty to get you on your way to your daily recommended total.
10.  Mange Tout – Mange tout are a very tasty vegetable – they are sweet, crunchy and perfect for serving with a dip such as hummus along with some carrot sticks. They contain plenty of fibre, too – 2.1g per 100g.
If you are ready to lose weight then the Lose Baby Weight plans offer a healthy and safe exercise and diet routine.

And don't forget to check out our current promotions and discounts page to see what specials we have on this week on our Healthy Mummy product range