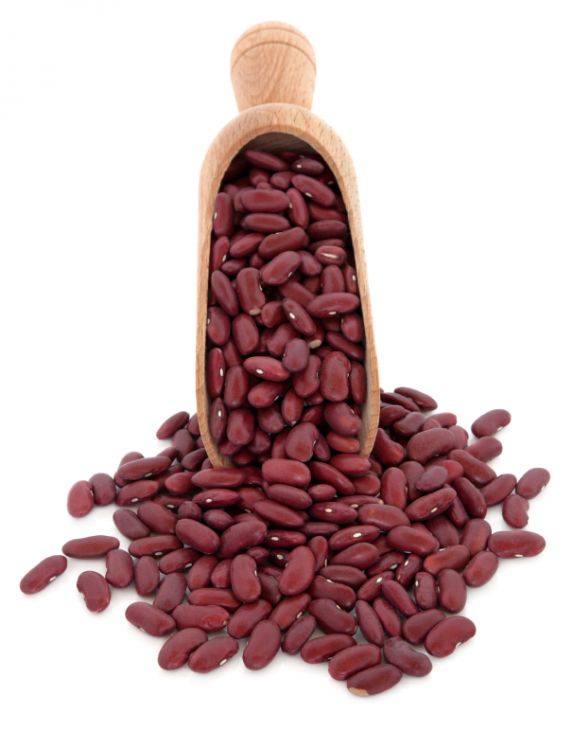 Rare and exotic (and often expensive) superfoods are profiled in the media often, but which superfoods are beneficial for losing weight after pregnancy?
The good news is that there are many low calorie, superfoods probably already lurking in your pantry and fridge, ideal for including in your healthy eating plan.
Offering a multitude of nutritional benefits, superfoods are typically linked with disease prevention, increased vitality and anti-aging.
Include these 10 superfoods in your diet to lose weight and reap the nutritional benefits at the same time.
Kidney Beans
A great source of protein and fibre, kidney beans keep you feeling fuller for longer, regulate blood sugar and are exceptionally good for bowel and digestive health. Whether you buy them dried in bags or the canned variety, kidney beans are an inexpensive superfood loved by adults and kids alike. Add to soups, stews, salads and pasta sauces several times a week to reap the considerable nutritional benefits. 
Blueberries
A serve of blueberries contains very few calories, and good amounts of fibre and vitamin C but the benefits don't stop there. Blueberries are packed with very high amounts of antioxidants, and studies have shown that blueberries may lower blood pressure, slow the growth of some cancer cells, regulate the metabolism and prevent heart disease. Whether you add frozen blueberries to your smoothies or eat fresh ones from the punnet as a snack, blueberries are doing you a world of good.
Greek Yoghurt
Containing high amounts of protein and calcium, unsweetened, natural Greek Yoghurt is a great weight loss food. Natural Greek Yoghurt achieves superfood status because of the probiotics contained within, which have been linked to increased immunity and greater gut health. Choose natural, unsweetened, reduced-fat varieties and enjoy several times a week in smoothies, with muesli or fresh fruit and nuts.
Spinach
Whether you're eating raw baby spinach leaves in your salads or cooked spinach as a side dish, spinach carries a hefty nutritional punch. A good source of iron, vitamin C, vitamin A, vitamin K, fibre, potassium and magnesium, spinach is very low in calories but ultra high in nutritional value so dose up on spinach by adding to your soups, stirfries, smoothies and sandwiches.
Red Capsicum
Red capsicums contain very few calories but a whole host of nutritional benefits. Containing double the amount of vitamin C than oranges, red capsicum are also high in lycopene and beta carotene,  antioxidants that have been linked to improving sight, increased immunity and protection from heart disease and some cancers. Add red capsicum to your stir-fries, bake in the oven with a little olive oil or chop and mix through your summer salads.
Oats
Wholegrain oats are a great source of fibre known as beta glucan, which is known to lower cholesterol levels and improve bowel health and regularity. Oats are a great budget food that comes at a low cost, so enjoy a warm bowl of oats for breakfast, paired with some berries and a sprinkle of cinnamon or bake into healthy cookies.
Tea
Both black and green teas are known for their high antioxidant content, although green tea has been linked to weight loss thanks to its thermogenic, fat burning properties, making it the ultimate hot beverage for people seeking to lose weight. Try replacing sodas, cordials and hot chocolates with green tea (or unsweetened black tea) and reap the antioxidant and metabolic benefits of this easy drink swap.
Sardines
Sardines contain high amounts of Omega-3 fatty acids, which is linked to better brain and heart health, and is even thought to have properties that reduce belly fat. They also contain high amounts of calcium, making them a good source of calcium for people who can't eat dairy. Enjoy sardines on toast for breakfast or grill them for dinner and serve with a side salad.
Kale
This ultra low calorie, cruciferous vegetable contains high amounts of beta carotene, folate, fibre, vitamin C, vitamin A and iron. With all these vitamins and minerals contained within, it's no surprise that kale is considered a superfood linked to lower cholesterol levels, greater immunity, and enhanced liver function. Add a handful to your daily smoothie, mix into a salad or tear up and cook into a soup.  
Grapefruit
This bittersweet fruit is an excellent source of vitamin C, fibre and folic acid, but it also has a huge amount of antioxidants. Grapefruit is believed to aid weight loss due to its insulin-lowering properties, which enhances the bodies ability to prevent storing sugar as fat. Try adding half a grapefruit to your breakfast or tear up the flesh and scatter in a salad. (anyone who takes medication should either speak to their doctor, read the label of their medication or research the medication online, as grapefruit is a contra-indication on a lot of medication)

GET YOUR 10% DISCOUNT
If you are ready to lose weight then the Lose Baby Weight plans offer a healthy and safe exercise and diet routine and you can get a 10% discount by using code LOYALTY at the checkout
PLUS our BEST SELLING 28 Day Diet & Exercise Plan is available as a 200pg Printed Book and you can get your copy here 
Plus our NEW CALORIE BIBLE is now available – get your copy today! Only $19.95 and a must have in your handbag!
Click HERE to see our shop