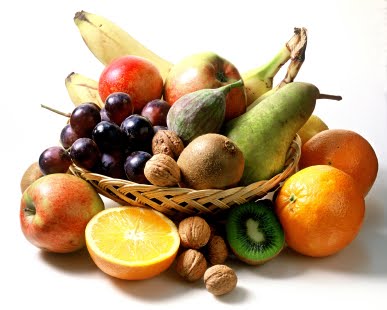 Fibre is a very important part of any healthy eating plan – it will help to keep you full, meaning that you eat less and therefore take in fewer calories, and it also helps to keep you regular, which is essential for good health.
Guidelines recommend that you consume between 25-30g of fibre per day. We all know that fruits and veggies are good for us, but did you know that they are also a brilliant source of fibre? Here's our top ten list of fibre-rich fruits to help you on your way.
Apple – Apples are a great on-the-go snack – perfect for popping into your handbag to snack on mid-afternoon, they are the ultimate in healthy fast food. They are also a great source of fibre, containing 2.7g of fibre per apple. If you don't just want to eat the apple as it is, try chopping it into a fruit salad, spreading with peanut butter or stirring into natural yoghurt.
Mango – Mangoes are a fantastically flavourful fruit – with firm, juicy flesh, they are yummy in salads, but they are also tasty when pureed into salad dressings or served with yoghurt. They contain more fibre than you might think, too – 4.9g of fibre per mango.
Dried Figs – Dried figs are a particularly tasty fruit as they are soft, chewy and sweet – great for kids and adults alike. Dried figs contain more fibre than fresh figs, and they are also a little bit easier to eat, too, as they don't need to be prepared. They contain 3.8g per 50g, which is around 2-3 dried figs. Serve them in salads, wrap them in Parma ham or simply drizzle them with honey for a tasty dessert.
Pear – Pears are like apples in that you can pop them into your handbag to snack on whenever you like – they require no preparation, making them a great healthy fast food. They are an excellent source of fibre, too, containing 3.5g per pear. I like to eat them as they are, but you can poach them, put them into salads with walnuts and blue cheese or chop them up and serve them with some yoghurt.
Orange – Oranges are a fantastic source of vitamin C, but they are also fresh, zingy and deliciously tasty – especially in the summer as they are super refreshing. They are a great source of fibre, too, containing 2.7g per orange.
Nectarine – Nectarines are like small oranges – but they contain a lot of fibre for such a small fruit – 1.7g fibre per nectarine. I like to eat nectarines as they are as they are deliciously sweet and juicy, but they are also delicious scattered over yoghurt with a sprinkle of chopped mixed nuts.
Papaya – Papayas are one of my favourite fruits – juicy and full of flavour, they are sweet and tangy all at the same time and are perfect in fruit salads. Serve them with a swirl of yoghurt or lashings of vanilla cream. They contain 4.7g of fibre per fruit, which will get you well on your way to your daily recommended total.
Prunes – Prunes are rich in fibre, low in calories and very sweet, making them a great all-rounder. They contain 2.8g fibre per 50g, which is the average portion size. Chop them up and sprinkle them over your favourite fibre-rich cereal for a fantastically fibre-rich breakfast.
Banana – Bananas are one of my favourite fruits as they are very versatile – you can serve them in sarnies with peanut butter, as they are, chopped into fruit salads or used to garnish your favourite breakfast cereal. They are very rich in nutrients, low in calories and fat and they are fairly rich in fibre, containing about 1.3g fibre per banana.
Blackberries – Blackberries are a wonderful fruit, especially when they are fresh in season – juicy, sweet and bursting with berry flavour, they are fab in fruit salads, savoury salads or desserts. They contain plenty of fibre too – 3.6g per 100g.
And try this fibre rich smoothie as part of your day too
[pb_vidembed title="Fibre Rich Berry Smoothie" caption="" url="http://www.youtube.com/watch?v=xhHrYdotIY0″ type="yt" w="580″ h="435″]
If you are ready to lose weight then the Lose Baby Weight plans offer a healthy and safe exercise and diet routine that are safe in breastfeeding and can help support your milk supply.
And don't forget to check out our current promotions and discounts page to see what specials we have on this week on our Healthy Mummy product range