Cooking for fussy toddlers can be difficult when you're trying to follow a healthy eating plan to lose pregnancy weight.
Chicken nuggets are a favourite with most children, however nuggets bought from fast food restaurants are often deep fried and filled with a huge amount of empty calories.
Making your own chicken nuggets is easy, and by baking them you can keep the calories to a minimum.
Try this recipe for Toddler Friendly Baked Chicken Nuggets, served with a side of fresh, crunchy celery and home made yoghurt aioli – it's toddler and adult approved!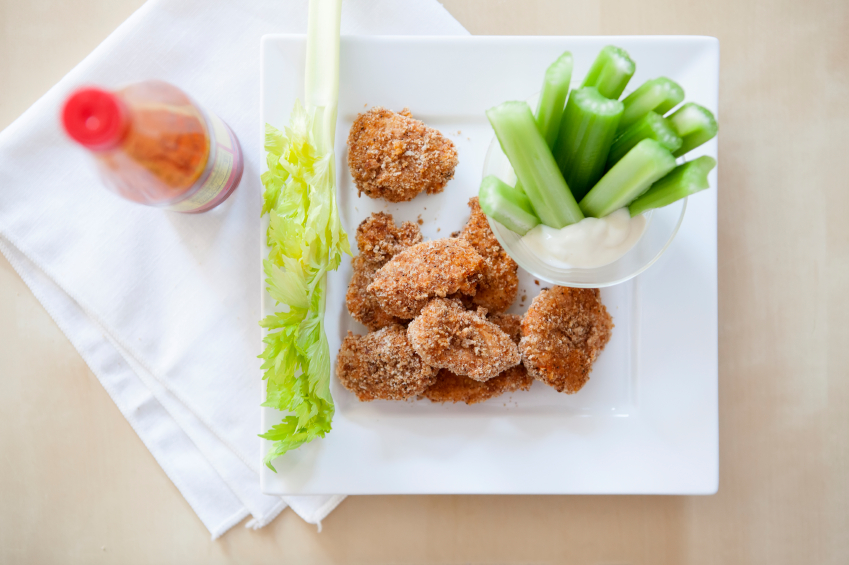 Ingredients:
2 large skinless chicken breasts
Half cup wholemeal breadcrumbs
Quarter cup finely grated parmesan cheese
4 stalks celery, chopped into large pieces
Half cup reduced fat Greek yoghurt
2 cloves garlic, minced
Juice of one lemon
Cracked pepper
1 tablespoon olive oil

Method:
Preheat an oven to 220 degrees Celsius.
To make the aioli, simply combine the yoghurt, lemon juice, garlic and cracked pepper in a small bowl. Mix together with a whisk to ensure all the ingredients are well combined, then set aside.
Cut the chicken breast into nugget sized pieces, then put in a bowl with the olive oil and turn to coat, ensuring that the chicken pieces are coated well.
Combine the parmesan, bread crumbs and cracked pepper in another large bowl.
Next, coat the chicken pieces in the breadcrumbs by placing the chicken pieces individually within the breadcrumbs.
Once the chicken nuggets are covered in breadcrumbs, transfer the chicken nuggets to a baking tray lined with baking paper.
Lightly spray the nuggets with olive oil spray, then cook in the oven for 10 minutes.
After 10 minutes, turn the nuggets with tongs and cook on the other side for 8-10 minutes.
Once crispy and golden, serve the nuggets with the yoghurt aioli and crunchy pieces of celery.
Serves: 4. Calories per serve: 360
Need to stock up on Healthy Mummy Smoothies? Then see our shop here
And join our 28 Day Weight Loss Challenges here