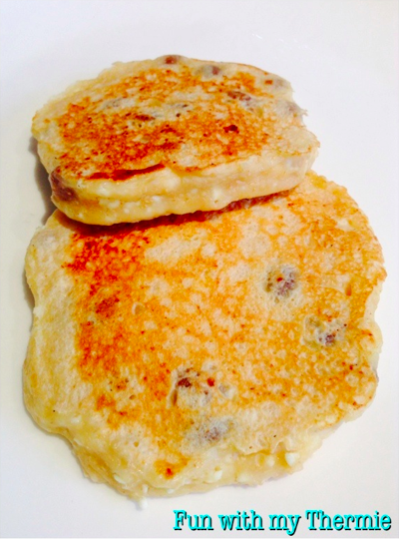 This healthy eating recipe is great for getting protein into your breakfast. We like to make a batch ahead of time and freeze them for when needed.

Kids also love them for breakfast and is a good way for them to start the day. They are also great for an afternoon snack aswell, and adaptable with other flavours:
Change it up by:
Replacing the cottage cheese with ricotta
Switch the sultanas for chopped dates
Take out the sultanas and add chopped chives or parsley
Add a sprinkling of cinnamon
Switch the sultanas for berries
Ingredients
1 cup plain flour (use wholemeal if possible)
1 tsp honey
½ tsp baking powder
Pinch of salt
½ cup milk
3 eggs
1 cup low fat cottage cheese
2 tbsp sultanas
1 tbsp coconut oil or olive oil
Olive oil spray for the pan
Thermie Method
In a little bowl, cover the sultanas with boiling water and set aside to soften.
Put the flour, baking powder & salt into another separate bowl.
Put the milk, eggs, honey and cottage cheese into the Thermie and blitz on speed 3 for 3 seconds.
Drain the sultanas and add to the Thermie.
Turn Thermie onto speed 2 and slowly add the dry ingredients through the hole in the top, once it's all added, blitz on speed 4 for a 2-3 seconds. Check that all the ingredients have combined by using the spatula to scrape the bottom of the Thermie. Blitz a little longer on speed 5 for a couple of seconds if needed.
Heat a frying pan over medium heat and spray with olive oil.
Drop heaped tablespoons of mixture onto the pan and cook until golden on each side.
Store in the freezer – make sure they're separated before freezing.
Serves: 4. Calories per serve: 271.
GET YOUR 10% DISCOUNT
If you are ready to lose weight then the Lose Baby Weight plans offer a healthy and safe exercise and diet routine and you can get a 10% discount by using code LOYALTY at the checkout
PLUS our BEST SELLING 28 Day Diet & Exercise Plan is available as a 200pg Printed Book and you can get your copy here 
Click HERE to see our shop
Hi, I'm Sasha. I love Thermomixing Lose Baby Weight Recipes. I have a Facebook page called Fun with my Thermie

I'm an independent Thermomix owner, I have no association with Vorwerk or Thermomix in Australia. The recipes are not official recipes which have been tested by, or have the approval, of Vorwerk or Thermomix in Australia 
 "Thermomix" is a registered trade mark of Vorwerk International AG (Vorwerk) in Australia & New Zealand and Thermomix in Australia Pty Ltd (Thermomix in Australia) is its authorised user and exclusive distributor in Australia and New Zealand of Thermomix products. Neither company supports, authorises or endorses this site".