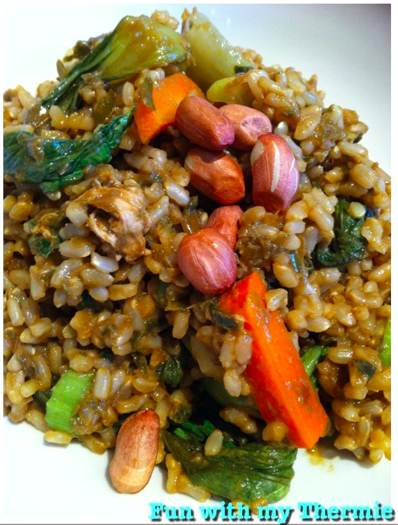 Full of flavour, this healthy eating Nasi Goreng is easy to do in the Thermie & so good for you. Popular with the kids, it's nice for lunch the next day too.
Ingredients
3 cups cooked brown rice
(Thermie instructions for cooking the rice are included in this method)
1 carrot peeled & cut into small sticks
3 celery stalks finely sliced
1 bunch bok choy
1 garlic clove
5 spring onions (cut into chunks)
1 small red chilli (optional)
2 tsp ground coriander
2 tsp cumin
10g (2 tbspns) olive oil or ghee (to make ghee see Fun with my Thermie)
85g (4 tbspns) soy sauce or ketcap manis
1 egg
Small bunch coriander or parsley
Handful of peanuts & lemon wedges to serve
Salt & pepper to taste
Thermie Method
Put 800g water into the Thermie bowl, then using your rice basket, wash 300g (1.5 cups) of brown rice then load it into the Thermie
Place your carrot & celery in the lower Varoma tray. Load your upper Varoma tray with the bok choy, but leave this aside until the last 10-15mins when you can add it to the Varoma.
Cook rice & veg on Varoma temperature for 30mins, speed 4 (don't forget to add your bok choy in the last 10-15mins).
Once rice is cooked, set it aside into your Thermo Server/s along with the vegetables.
Rinse your Thermie bowl then blitz your garlic, spring onion & chilli (if using) on speed 7 for 2 sec
Scrape down the sides and add olive oil or ghee, coriander, cumin and sauté on 100c for 2.30mins on speed 1
Add soy sauce or ketcap manis & egg and cook for a further 2.30mins on 100c, speed 1
Pour onto rice & veg and mix it altogether well
Serve with a handful of peanuts, fresh herbs & lemon wedges
Serves: 4. Calories per serve: 399.