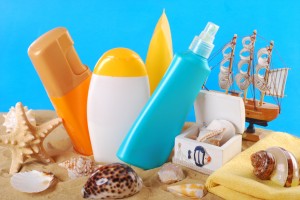 With the warmer weather peeking its head around the corner, thought turns to the flesh you may want to flash as it heats up.
Months spent under wraps, fending off cold breezes, may mean that skin is looking less than peachy. After months of working to lose pregnancy weight or adopt a healthy eating and exercise plan, this just won't do!
We are all aware of the dangers of UVA and UVB rays and the big no no that is sun baking. Embracing a faux glow however, is a great way to complement hard fought weight loss, with the added benefit of helping you look that little bit longer and leaner.

Whether you've got a special occasion to attend, or just fancy indulging in some well deserved pampering, applying a coat of faux tan is one of the quickest ways to highlight your best bits and camouflage those that don't feature in your top five.
While formulations and application methods make the process easier than ever, it's still possible to make mistakes. To prevent a run in with a case of tangerine tan (never a good look), we've compiled this list of the top tan commandments to ensure a golden goddess result.
The tan commandments
Thou shalt always prep the skin properly. Dry, flaky skin (often seen on arms and legs) is the mortal enemy of faux tan. The colour will stick to the flaky bits, giving a patchy, less than uniform appearance. The solution? Exfoliation. A quick session in the shower, using a pair of exfoliating gloves or a body scrub will leave skin smooth and tan ready, without a flake in site.
Thou shalt pay attention to the bendy bits. Knees, elbows, underarms and ankles are the tell-tale spots for poor tan application. This is due to the excess dry skin that accumulates, and the slightly more difficult shape of the area. Make sure you pay attention to these spots while scrubbing and before applying your tanning product, rub in a 20c piece sized dollop of thick moisturiser to form a barrier against blotches.
Thou shalt choose your formulation wisely. Foam, cream, spray, gel, the list of faux tan products on the market is endless, making it a tricky process to choose the right one. If you have dry skin, opting for a cream or foam based formula is your best bet, while oily skin tones should steer in the direction of a gel. Regardless of what formulation you select, try and choose one with a tint as it will show up instantly on your skin, meaning you can see where you've applied the product.
Thou shalt apply in a well lit room. Applying in a dimly lit bathroom may give a spa-like experience but not being able to see your handiwork can mean streaks of rogue colour. Try and apply during daylight hours if you can, or pop on the light to ensure you can see what you've done.
Thou shalt remove the phone from the hook (and ensure the kids are in bed) before starting the application process. The worst thing you can do is rush, or stop halfway through, as the colour will dry unevenly. Try and set aside half an hour to shower, prep, apply your colour and dry off. A quick drying formulation is a God send for busy mums.
Thou shalt use a pair of latex gloves or apply moisturiser to the hands five minutes before tanning. Stained palms are never a good look. A pair of disposable latex gloves will prevent colour seeping into your skin. The next best thing is a thick coat of moisturiser.
Thou shalt start at the bottom and work towards the top. Start applying tan on your feet and slowly work your way up. Make sure you skim over the ankles and continue upwards, concentrating on keeping strokes long. Once you've reached the tops of your thighs, check your handiwork to see if anything needs a do over. Blotches or streaks? Apply a small amount of moisturiser to dilute the colour.
Thou shalt not forget the backs of the arms and back of the neck. These two spots are commonly neglected in the great tanning game. Make sure you apply your colour all the way round the arm and up to the nape of your neck, where your hair starts.
Thou shalt tread carefully if tanning the face. There is no reason why you can't continue your application up onto your cheeks and beyond. If you do decide to bronze up, place a small amount of product on the nose, forehead and chin, then join the dots. Once you've done this, work the product down your neck towards your chest to prevent any tell-tale lines.
Thou shalt dab the dry bits before finishing. If you've tanned your face, start with the eyebrows. Gently dab a dry towel over the top to remove any excess product. Fair haired beauties may need to do the same thing at the hairline. The same process applies for the aforementioned underarms, elbows, knees and ankles. Gently dab each to ensure uniform application. If there are any blotches (or if you're nervous) apply a small dollop of moisturiser to these spots and gently rub in. This will dilute the colour and prevent patches from forming.
There you have it. A fool proof guide to applying a hint of colour that's sure to add a spring to your step (not to mention a big serve of motivation to stick to your healthy diet or weight loss plan.)
If you are ready to lose weight then the Lose Baby Weight plans offer a healthy and safe exercise and diet routine that are safe in breastfeeding and can help support your milk supply
And don't forget to check out our current promotions and discounts page to see what specials we have on this week on our Healthy Mummy product range