A BIG thank you to nutritionist, author and mum Kathleen Alleaume for sharing her favourite Healthy Mummy Smoothie and for telling us why she likes it from a nutritionists perspective so much. You can read other nutritionists reviews here too
Kathleen & The Healthy Mummy Smoothie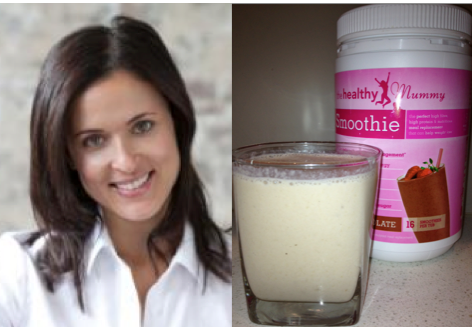 It's 3 o'clock in the afternoon and you know the drill – an all-afternoon marathon with the little one embarks, hence requires lots of strength and stamina.
I, for one, frequently hit the wall around 3 p.m. My 10-month old son is awake and charges on till 7.30 p.m. From the race to the park, running errands, cooking, dinner, bedtime preparations, and keeping the home in line, every day I can guarantee that around this time my eyes will start to droop and my energy levels plummet.
Although it's tempting, reaching for a piece of chocolate or another cup of coffee is not the answer. Instead I whip up a Health Mummy Smoothie which literally takes 1-minute to make! It's an ideal grab-and-go, energy-boosting, and 'pick-me-up' snack to charge me through to dinnertime (I have already lost my baby weight so use the smoothies as a tasty snack)
I love my smoothie blended with mixed frozen berries or fresh banana. I also enjoy chopped strawberries or mango when they are in season.
Here are my top 5 reasons why I highly recommend.
1) It's loaded with fibre. And we all know that one of the most effective ways to manage our weight is to control hunger. So make fibre your friend! Fibre alone contains no kilojoules, and it provides the bulk to your diet that gives you the satisfaction of chewing, plus the feeling of a full stomach. Not only is fibre filling, it also aids digestive health, and helps to relieve bloating (a big plus!).
2) Low GI. Likewise with fibre, low GI foods digest more slowly and stay in your stomach longer. This keeps hunger at bay. As a result, you may eat less and consume fewer kilojoules making it easier to control weight. In addition, low GI foods do not spike your blood sugar levels, making it easier for the body to burn fat.
3) Fabulous fats. The smoothie contains a blend of flaxseed and pumpkin seeds, both of which are rich in 'good' fats. Flaxseeds, in particular are high in 'essential' fats, such as omega-3 fatty acids. They are called 'essential' because they can't be produced by the body- so must be obtain through food.
4) Low in 'added sugar'. Unlike many other meal replacements, the Healthy Mummy Smoothie is low in added sugar. Its sweetness comes from fruit sugar and inulin (a type of prebiotics that can help stimulate the growth of healthy bacteria in the gut to restore digestive balance).
5) Finally, it satisfying and delicious! I personally adore the chocolate flavour. Every time I drink it, it certainly feels like a treat, without the guilt.
[pb_vidembed title="The Healthy Mummy Review" caption="" url="http://www.youtube.com/watch?v=3zYkjcJnnoA" type="yt" w="580″ h="435″]
If you are ready to lose weight then the Lose Baby Weight plans offer a healthy and safe exercise and diet routine.

And don't forget to check out our current promotions and discounts page to see what specials we have on this week on our Healthy Mummy product range