One of the major benefits of beetroot juice it that it contains a colour pigment called betalain.
This is a powerful antioxidant which is also anti-inflammatory and will aid in detoxification. Betalains may occur in any part of the plant, including the petals of flowers, fruits, leaves, stems, and roots.
Strawberries turn on detoxifying enzymes and spinach helps to rinse toxins from your system. Spinach is a well known cleanser and helps to create an alkaline environment in the body .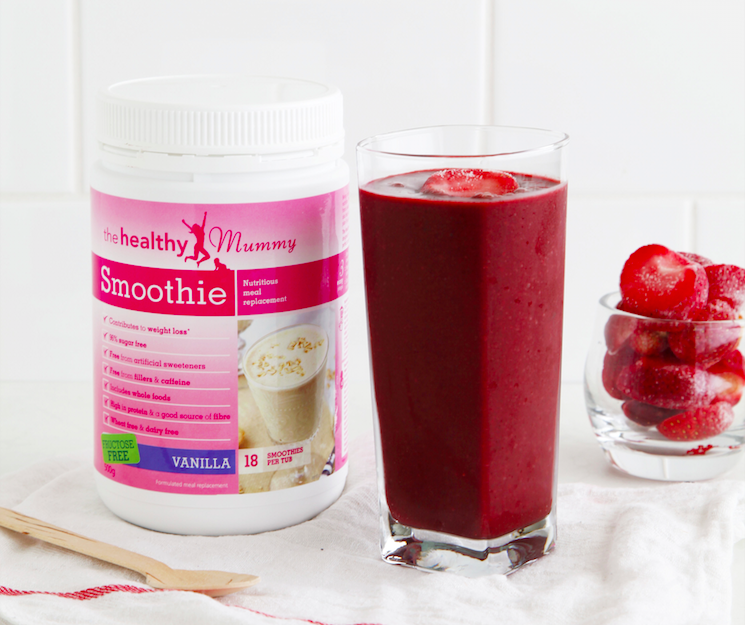 Ingredients 
2 x tbsp of Vanilla Healthy Mummy Smoothie mix
200ml cup unsweetened almond milk
1 beetroot, peeled and finely chopped (1/4 cup)
1/4 cup frozen strawberries
1 large handful of spinach (40g)
Directions 
1.Blend until smooth and enjoy!
 Calories: 177, Carbs: 17.9g, Protein: 14g Fat: 3.2g Fibre: 9.9g
And if you want to go on an actual detox, then try our 3 Day Cleanse Plan or our Junk Food 7 Day Detox Plan – you can buy either of them in our shop – or they come as a bonus to all 28 Day Weight Loss Challenge members