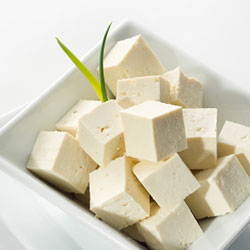 Tofu is an incredibly nutritious foodstuff – packed with protein, it's also low in fat and calories, making it an excellent food for weight loss and healthy eating.
You can buy firm tofu, which can be marinated and cooked in a similar way to meat, and silken tofu, which is a softer tofu that can be used in dips and spreads.
Tofu is packed with protein – per 100g serving, you'll get 11g of protein – which is more than in 100g of beef or 100g of cheese. It also contains omega-3 fatty acids, which lower levels of bad cholesterol whilst increasing levels of good cholesterol and selenium, which is an antioxidant that protects against free radicals.
It's an especially good food for women to eat, too – it contains isoflavones, which can work to maintain a healthy estrogen level and is also packed with calcium and iron – but that's not all.
Because tofu is low in calories and saturated fat – it's only around 80 calories for a 100g portion, it's also an excellent food to eat if you're trying to lose weight. It will fill you up for longer than beef or chicken would, due to the protein it contains, for fewer calories and less fat. Here are 5 recipes using tofu that are low calorie and low fat.
Sweet and Sour Tofu
Ingredients
565g/20oz tin pineapple chunks in juice
400g/14oz package extra-firm water-packed tofu, drained and rinsed
1 large red bell pepper
1 large green bell pepper
2 tbsp. minced ginger
1 tbsp. minced garlic
2 tsp. corn starch
Cooking spray
3 tbsp. rice wine vinegar
2 tbsp. low sugar ketchup
2 tbsp. soy sauce
Salt and pepper
Directions
Slice the peppers in half. Remove the seeds and pith and dice the flesh. Dice the tofu into ½ inch cubes.
Drain the pineapple, reserving ¼ cup of the juice.
Whisk together pineapple juice, vinegar, ketchup and soy sauce until smooth. Season to taste. Toss the tofu with 3 tbsp. of the sauce. Leave to marinate for 30 minutes.
Add the corn starch to the remaining sauce and whisk until smooth.
Heat cooking spray in a large frying pan. Place the tofu into the pan, whisking any leftover marinade into the sauce. Fry for 7-8 minutes until golden brown. Add more cooking spray to the pan along with the ginger and garlic.
Fry for 30 seconds, stirring, then add the red and green peppers. Cook, stirring occasionally for 2-3 minutes until the peppers are tender. Add the sauce and cook until thickened for 30 seconds, then add the tofu and pineapple and cook until heated through. Serve immediately.
Recipe serves 4, calories per serving: 195, fat per serving: 6g.
Devilled Tofu Kebabs
Ingredients
300g firm smoked tofu
8 button onions, peeled
8 small new potatoes
1 courgette
1 red pepper
2 tbsp. tomato puree
2 tbsp. soy sauce
1 tbsp. sunflower oil
1 tbsp. runny honey
1 tbsp. wholegrain mustard
Salt and pepper
Directions
Dice the tofu into cubes.
Peel and slice the courgette. Slice the pepper in half and remove the seeds and pith, then dice the flesh. Meanwhile, cook the potatoes in boiling water for 7 minutes, adding the onions after 4 minutes and then drain.
Combine the tomato puree, soy sauce, sunflower oil, runny honey, mustard and salt and pepper in a bowl. Add the tofu. Toss to combine and leave to sit for 10 minutes.
Pat the potatoes and onions dry, then thread onto skewers along with the courgette, red pepper and tofu. Brush the skewers with any remaining marinade.
Grill over a high heat for 5-8 minutes until the vegetables and tofu are tender.
Recipe serves 4, calories per serving: 178, fat per serving: 8g.
Miso Broth with Marinated Tofu
Ingredients
600ml vegetable stock
200g firm tofu
2 tbsp. miso paste
3 tbsp. teriyaki marinade
2 spring onions
1 red chilli
Soy sauce to taste
Cooking spray
Small handful green leaves
Directions
Dice the tofu into cubes. Thinly slice the spring onions and chilli, removing the seeds.
Toss the tofu in the teriyaki marinade and leave to marinate for 10 minutes.
Dissolve the miso paste in the vegetable stock and bring to a simmer. Add the leaves and half the spring onions, along with soy sauce to taste and then simmer for 2 minutes.
Meanwhile, heat cooking spray in a griddle pan. Fry the tofu for a few minutes on either side until golden. Divide between two bowls and then pour the broth over the tofu. Sprinkle with spring onions and red chilli to serve.
Recipe serves 2, calories per serving: 143, fat per serving: 5.9g.
Tofu Patties
Ingredients
400g firm tofu, drained and crumbled
1 carrot
1 bunch of spring onions
1 garlic clove
1 thumb-sized piece root ginger
2 tbsp. sesame oil
2 tbsp. coconut oil
2 eggs
Sweet chilli sauce to serve
Directions
Grate the carrot. Finely chop most of the spring onions. Mince the garlic and ginger. Combine the tofu, carrot, spring onions, garlic, ginger and eggs in a large bowl.
Heat oils in a frying pan. Grease an 8cm pastry ring. Place into the frying pan. Add 5 tbsp. of the batter. Fry for 4-5 minutes over a medium heat. Remove the ring and flip over. Cook until golden on either side.
Continue until you've used all of the batter. To serve, sprinkle the patties with spring onion and chilli sauce.
Recipe serves 8, calories per serving: 110, fat per serving: 9g.
Tofu & Peanut Noodles
Ingredients
2 blocks medium egg noodles
250g firm tofu, drained
1 thumb-sized piece root ginger, peeled
2 tbsp. soy sauce
Juice of ½ lime
1 tsp. oil
½ cucumber, peeled into ribbons
1 tbsp. toasted peanuts
1 red chilli
Directions
Cube the tofu. Mince the ginger. Slice the chilli in half, remove the seeds and then finely chop the flesh.
Mix soy sauce, ginger and lime juice in a bowl. Add the tofu and toss to coat, then cover and leave to marinate for 5 minutes. Meanwhile, boil the noodles in salted water for 4 minutes until tender. Drain.
Heat the oil in a frying pan. Add the tofu and fry until golden brown.
Toss noodles, tofu, cucumber, peanuts, marinade and chilli in a bowl to serve.
Recipe serves 2, calories per serving: 179, fat per serving: 6g.