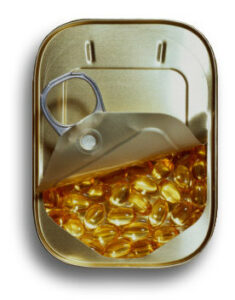 As you are probably aware by now, Omega 3's are an essential fatty acid, which means humans are unable to synthesize this important nutrient.
EPA and DHA – the Omega 3 essential fatty acids in fish oil are crucial throughout life, but especially during pregnancy when a woman's demand for DHA in particular increases substantially. It is recommended that a pregnant or lactating woman supplements between 250mg – 500mg of DHA daily.
DHA comprises approximately 40% of the fatty acid in brain tissue. That's why its among the most important nutrients for pregnant and lactating women. The DHA consumed by expectant mums sets the foundation for her baby's developing brain, eyes, and nervous system.
DHA also provides mood and nerve support for new mothers in the difficult weeks following her baby's birth. Omega 3 fish oil is a safe, pure, and effective way to promote the health of both mums and babies.
The research-backed benefits of fish oil include:
         Promotes the healthy development of the fetal brain, eyes, nervous system
         Promotes positive mood and well-being for mothers
         Supports healthy birth weight and gestational length
         Promotes attention and focus in infants and children
         Supports healthy immune system development
         Is natural and safe for long-term use
         Is Used to make breast milk
Opt for a Fish oil that is suspended in Natural Marine Triglycerides – like 'The Healthy Mummy' fish oil brand. Some other 'cheaper' brands are using Ethyl Esters (a class of lipids that are derived by reacting free fatty acids with ethanol or alcohol*) as the fat content and this is a new fat to our diet (effects unknown). Dosage is 2 capsules twice daily with food
For the vegan or vegetarian, it is harder for your body to convert plant based omega fatty acids to omega 3, but it is still better than nothing. Try Chia, Flaxseed or Udo's Oils on a tablespoon, or alternatively in juice or on salads, yoghurt or smoothies – and as an added bonus The Healthy Mummy Smoothies have flaxseed added in
How do I get my children to take Omega 3's?
There are many ways to get these super nutrients into your kids. Fish oil 'chewies' are readily available in pharmacies, supermarkets and health food stores. It's also quite fine if your child does not want to swallow the casing that's holds this vital liquid. Most have no artificial colours or flavours, a couple of good kids ones are Blackmores, Herbs of gold, Nordic Naturals liquid or chewies.
Just make sure you keep the liquids in the fridge so they don't oxidize. It is recommended not to consume these oils 1 month after opening, so always try to buy the smaller size bottle, even if it costs more. That way you will maintain the freshness and purity, and it will be much less like much less likely to cause a fishy after taste.
There are also some 'premium' branded Omegas on the market such as Efalex or EyeQ. These oils are a blend of fish and evening primrose oil. There has been great research on both and are highly recommended for kids with learning disorders or behaviour problems.
Lastly, try to eat fish as part of you and your children's regular diet 2-3 times weekly. Also include foods such as coconut oil, avocados, flaxseeds, chia seeds, walnuts and wholegrains and get your Omegas naturally through your diet.
Written by Elisha Danine – ADV. DIP. NUT. MEDICINE