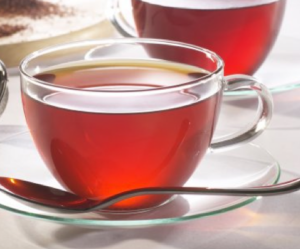 I am such a hot drink connoisseur! Raw cacao, rooibos, chai, organic fair-trade decaf coffee… You name it, my cupboard has it!
You know those tough days, when bub won't do anything but cling to your hip, and it rained on your washing on the line… you know… the spoon in the peanut butter jar type of day?
I know them well! So to combat the spoon in the peanut butter jar (or nutella jar, or handfuls from the chip packet), whatever your indulgence, I have put together my top choice of herbal teas to alternately ease the stress and start relaxing while still promoting weight loss.
It may not sound as appetising as other junk food, but you would be surprised how once you've had your cuppa how refreshing it really is, as well as getting the metabolism boosting benefits that can aid in your weight loss journey. 
You also get the hydration benefits with having a cup of herbal tea and it is well known that our body confuses hunger with thirst… and I know I certainly have my days struggling to drink enough!
Even if you're not a hot drink girl, or the weather is too hot… try chilling the tea and having it cold.  And if you are finding the tea a bit too bitter for your liking, sweeten with a little natural honey for a refreshing boost.
Rooibos
I will start with my favourite tea, Rooibos.  I love Rooibos as it mixes fabulously with other teas, my absolute favourite is chai spices (cinnamon, clove etc) made on a rooibos tea base (instead of black tea)… mixed with a little honey and soy milk it is a true indulgence!
Rooibos Tea (like green tea) is rich in antioxidants which gives the immune system a boost to fight infection. It is also good for people who suffer from headaches, insomnia, nervous tension, depression and hypertension.
Rooibos tea relieves stomach and indigestive problems like nausea, heartburn, stomach ulcers and constipation, as well as having anti-spasmodic effects which are helpful in relieving stomach cramps and infant colic.  Additionally, Rooibos does not have caffeine like black or green tea and is low in tannin (unlike most other herbal teas) and therefore does not impact on iron absorption and is considered safe in breastfeeding.
Chamomile
Chamomile has been used as a traditional remedy for stress, anxiety, indigestion, and insomnia and of course must be added to the list of favourites.
This herb reduces inflammation, aids digestion and sleep, and is helpful for colitis, diverticulitis, fever, headaches, and pain (including menstrual cramps).  2 teabags with a teaspoon of honey, this is often my 'relax and go to sleep' tea and I found it helped my newborns stomach settle too having it through my breast milk.
Peppermint
Now this is a tea that is great for nausea, I can personally attest! Peppermint is useful for a variety of complaints, and such a refreshing taste it is a well deserved favourite!
It can be used to treat nausea, headaches, heart trouble, indigestion (it increases stomach acidity therefore aiding digestion), diarrhoea, poor appetite, colic, chills, rheumatism and irritable bowel syndrome. Peppermint can easily be mixed with other teas also for added benefits and flavour.
NOTE: You may have heard that peppermint essential oil should be avoided by pregnant and breastfeeding women as it is a uterine stimulant and can interfere with iron absorption, however tea is totally safe to drink.
Green Tea
Now while this tea is renowned for its bitter flavour, green tea packs a punch of wonderful benefits (I have totally been re-inspired by writing this article to include it in my daily cuppas!).
Many of its benefits stem from the high antioxidant content, which helps stimulate the immune system to fight infection and protect against cancer.  Green tea also has benefits that include lowering cholesterol levels, reducing the clotting tendency of blood, fighting tooth decay and aids in regulating blood sugar and insulin levels.
It also helps combat mental fatigue (any mums out there with this problem???), helps sufferers of asthma, and may delay the onset of athero-sclerosis (hardening of artery walls).  Try adding a little honey, or mixing with other teas like peppermint or chai tea spices and give green tea a go! Iced green tea can also be very refreshing in summer!
Green Tea does contain caffeine and is similar in content to black tea, but it depends on the quality of the tea leaves and the temperature and length of brewing to exactly work out how much a cup contains but according to the government food standards research, it can be between 10-50mg per 250mL (instant coffee is between 60-80mg/250 mL).
It is interesting however, that research shows that caffeine in tea does not have the same negative results on the body as excessive caffeine from coffee beans due to the way it reacts with tea polyphenols. You can also buy caffeine free green tea and Tetley do a great range
Red raspberry Leaf
There is much talk around raspberry leaf tea and pregnancy so I thought I would go through its uses.  Raspberry leaf tea is a good tea for pregnancy, and especially close to birthing, as it helps to help relax the uterine area and strengthen its walls.
This tea is also a remedy for morning sickness (especially when combined with peppermint tea) and can also be used to reduce menstrual bleeding and can aid those suffering from menstrual cramps, hot flushes and diarrhoea.  Additionally raspberry leaf tea promotes healthy nails, skin, bones and teeth… so this certainly is an ideal pregnancy tea for you and bub!
So for all you mums wanting a little weight loss and health boost try adding a cup of herbal tea to your day and take a minute to relax enjoy… you will be better for it!!
Written by nutritionist Rebecca Riley
If you are ready to lose weight then the Lose Baby Weight plans offer a healthy and safe exercise and diet routine.

And don't forget to check out our current promotions and discounts page to see what specials we have on this week
on our Healthy Mummy product range