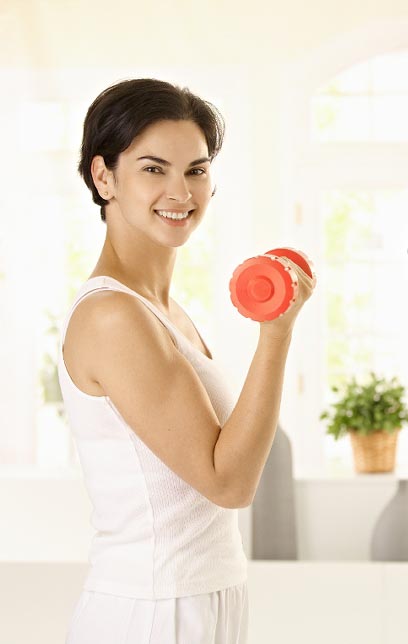 A lot of us find it really hard to squeeze in some time to stick to our post pregnancy exercise plan because of the new commitments that come with being a new mum.
Motivation is such an important thing to have when you're trying to lose baby weight and there are a couple of ways to help you keep up determination.
Other than losing weight and toning your body, exercising will give you feelings of well-being and joy, and better quality sleep. Keep motivating yourself by setting other health goals and you'll have even more reasons to religiously workout every single day of your life.
Work towards your long term goal of overall health and fitness by cultivating a couple of these positive workout habits.
Seek variation
On top of your regular exercise regimen, it's always a great thing to add some variations to enhance the results of your efforts. Pick up other activities such as jogging by the beach or in the park with your all-terrain stroller, and when you're feeling much stronger later on you can consider enrolling for a Pilates or kickboxing class.
Get an exercise buddy
There's nothing better than getting someone to help you out with your post pregnancy workout regimen. At least there will be someone to chat to when you're in between exercises and they'll also encourage you to push yourself harder. Most importantly, it's less likely that you'll skip a workout because you wouldn't want to let down your buddy. You'll feel more inclined to go for your sessions and you'll slowly turn it into a positive routine.
Exercising even when you're too tired
How many times have we said to ourselves 'I'm just too tired to do anything today…I'll just make up for it tomorrow'? Well, it's even better to workout when you're feeling tired and sluggish because exercising will help you feel more energized! You'll feel so much better after you've released all the stress from your body, mind and soul.
Keep track of activities
It's very important to jot down the information of your progress. No matter how far you've ran or how many sit-ups you've done, always remember to keep track of it. Not only will this help motivate you and keep you in line with your post pregnancy weight loss plan, it gives you great sense of achievement and you'll keep pushing yourself to do more every single day!
Prioritize your workout
As busy as you are you must repeatedly tell yourself that exercising is one of your top priorities because your ultimate goal is to lose baby weight and improve overall health. If exercise can help you boost the quality of life and make everything so much better for you, why not prioritize it as one of the important things that you have to do every day?
Most importantly, who would know yourself better than anyone else? All you need to do is to figure out what motivates you to stick to your workout plan and put it into your daily life.
If you are ready to lose weight then the Lose Baby Weight plans offer a healthy and safe exercise and diet routine.
And don't forget to check out our current promotions and discounts page to see what specials we have on this week on our Healthy Mummy product range.